Today ten years ago, Friedensreich Hundertwasser died. If you do not know Hundertwasser, it could have something to do with the fact that he never seems to have made a big impression in the UK. Several buildings were either built on Hundertwasser's colourful and often unsquare designs or refurbished and restructured in Austria or Germany. Many of his artistic reshaping went to such degrees that the old, uniform façade and interior structure of the original houses wasn't recognisable any more. In Austria and Germany the visual concepts of a Hundertwasser Haus (house) are well known, as is the first of such buildings in Vienna.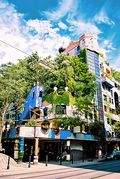 [Photo by Lucian Ilica (granted as "in public domain", see Wikimedia)]
For many eco-conscious Austrians and Germans in the 1980s and 1990s, Hundertwasser and his eco-aesthetic were an important symbol of a paradigm shift: from the closed and uniform, cold and grey, as well as square and boring of post World War II to the open and polyform, warm and colourful, as well as multi-dimensional and intriguing. There are quite a number of realisations of Hundertwasser's visions for a new way of living in Austria and Germany (there is also one example each in Switzerland, the USA, the Netherlands, Japan and New Zealand).


[Photo taken by Gerbil ; used under the Creative Commons Attribution-Share Alike 3.0 Unported license]
Who wouldn't want to go to this day care centre in Frankfurt am Main? It is one of my favourites of all the architecture based on Hundertwasser's design. As far as I know, ten years after his death there are still some concepts which haven't been realised yet. Maybe someone out there will be tempted, and fund a Hundertwasser building in the UK?
If you need inspiration, search the internet, go to http://www.hundertwasser.de/ (a web page which is also available in English), or consider your local library. The BL, of course, has many books on/by/about Hundertwasser. I will briefly summarise some of my personal favourites:
[
CG
]