Sometimes the way I discovered an item is more interesting than the item itself. In this case it is at least worth mentioning briefly. I have been asked to catalogue items of the so-called Collins Collection (books primarily selected by the book dealer John Collins for their bindings; there's more information in the newsletter of the Friends of the British Library, Issue 56 Spring 2007, p. 5). Some of the bindings look to me – as a layperson – extremely boring or standard, for other books even I can see that the binding is extraordinary, or at least "something special".
One item for which this is true, is:
Muret. Muret-Sanders Encyclopaedic English-German and German-English Dictionary : giving the pronunciation according to the phonetic system employed in the method of Toussaint-Langenscheidt / [smaller edition for Home and School.]
(Berlin : Langenscheidtsche Verlagsbuchhandlung, 1905.)
Wq6/9979
Collins 831 [not yet fully processed and orderable]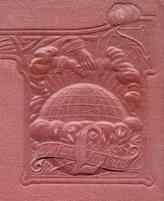 As you can see it is a reference work of 1905, but there are at least two features I should mention here. First the cover has this interesting depiction of a friendly world where England, France and Germany would help and support each other (in case you can't see it from the scan to the right: the three hands shaking have each a kind of shirt sleeve which features each countries' name!).
The other notable feature is the explanation of signs within the introduction. Whereas some similar, helpful advice re usage of words is common, I have so far not seen a dictionary which advised that a word

is a Masonic terminology (symbolised by a rectangle)
was part of the "lang. of the criminal classes" (symbolised by a small gallows)
or even
was part of the "language of the uneducated people" (the letter "P" is used)
I won't comment on these, of course, but will simply give you the visual proof that I'm not making this up: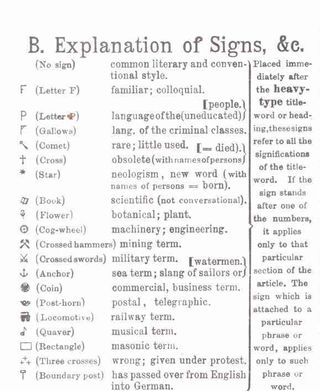 [
CG
]