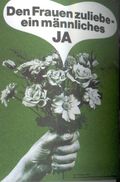 The above headline was a slogan used in the 1970s for convincing the men (sic!) of the canton of Schaffhausen to give the women of their canton the vote. In this case, the men did say "YES", and another canton in Switzerland had done the "decent thing" and removed discrimination against adults based on their physical gender.
A
Swiss web page charts the chronology of women's suffrage in Switzerland
, and states that the principle of
direct democracy
could be blamed for the slow progress of giving women the right to vote.
Of course, looking back, it is somewhat shocking to see Switzerland last in a list of countries of introducing women's suffrage:
·    1917 Soviet Union
·    1918 Austria
·    1919 Germany
·    1920 USA
·    1928 Great Britain
·    1944 France
·    1945 Italy
·    1971 Switzerland

In the 1960s, women's suffrage was tackled "head on" with a stamp-like label (see scan to the left) which was produced by the Swiss women's suffrage association: the text states "A true democracy?". Whereas women's right to vote was finally introduced on the federal level in Switzerland in 1971, it still meant that cantons had to vote individually on this important issue.
However, if all this is such a long time ago, why is the DACH Blog devoting a post to this? Today, only 20 years ago the "resistance" of men in the canton of
Appenzell Innerrhoden
was legally broken when the Federal Court proclaimed that the cantonal legislation regulating elections contravened the federal law and should therefore be changed. On 27th November 1990 this decision resulted in a change of cantonal law in favour of women's participation in the democratic process.
This decision also caused negative comments. The
reported statement
by one male citizen of this canton was "Now finally the time has come, the weaker sex meddles with politics, that can only bring our downfall." Nonetheless, Switzerland, and more importantly the canton of Appenzell Innerrhoden still exist.
The national Swiss TV station offers a number of videos about the struggles and successes of the Swiss Women's Suffrage movement from 1952 until this year:
http://www.sf.tv/sfwissen/dossier.php?docid=15258&navpath=pol
This page makes me realise that I missed the "news" that all three highest political positions in Swiss institutional politics are currently taken by women politicians. I long for the day when such a situation is not newsworthy any more. In German we use terms of citizens having the active and the passive vote; whereas the latter can vote for their representatives, the person who enjoys the right of an "active right to vote" ("aktives Wahlrecht") can become a representative in parliament and vote directly themselves. In that sense let's turn the heading of this post around:
"For the benefit of men : a womanly YES" will make the world a better place.
[CG]