Back in August I wrote a post titled Document Supply Centre requests and the 'r-word'. Now that this year's budget for German-speaking Switzerland is used up, I have time to revisit the volume of requests for inter-library loans. Due to the number of requests, and to the need to consider whether a requested item provides "value for money", I have been rejecting more "borderline" items (i.e. items which do not 100% fit our German Collections Development Policy).
As an example, an item costing 80 Euros or more, in a subject area we don't normally cover, and with a very narrow or specific focus is not necessarily good value for money because, apart from the actual price of the book, we need to consider the overheads of ordering, processing, cataloguing and long-term storage. In the case of DSC requests, as the book is to be sent out on loan, there is also the extra potential for damage or loss.
But back to the statistics. Statistics can of course, give a skewed idea of what's happening; for example: when did the academic year start, or when was Christmas or Easter. These external changes at institutes' "working times" influence how many requests we get. Also, the number of German departments in the UK will affect it. However, looking back at the spreadsheets for the last year, two non-numerical observations are clear:

the number of diverse institutions asking for German language publications was much higher then, compared to now.
Recently we have received more requests which are out-of-scope, and these are also areas which English-speaking academia should cover well.
In one view I can show you some statistics graphically: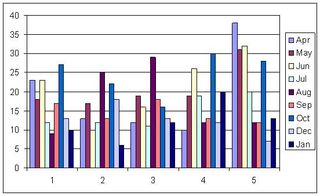 The horizontal lines 1, 2, 3, 4, 5 represent the financial years 2005-2006, up to 2009-2010. So the most obvious observation one can make with regard to my previous post is: for this financial year's April, May and June the number of requests was extraordinarily high. And even though October is – surprisingly– a time when we get loads of requests, October 2009 was maybe slightly down from October 2008, but still higher than the other three years. December 2009 and January 2010 were not extremely busy, but it is worthwhile bearing in mind that libraries and institutions nationwide have probably started to feel the crunch now, and that interlibrary loan requests are not enjoying the same level of budgets any more as in these institutions last academic year.
However, all this is a bit more complex. I only see the requests for items we do not hold, and therefore there might well be many more requests for German Collections items (those which we already have). So I'd like to conclude with: it's too early to monitor the recession on the basis of DSC requests at the British Library's German Collections.
[CG]