Honestly, this post is not about football. Rather it picks up from a previous post. There, I mentioned that the President of the Federal Republic of Germany, Horst Köhler, had just resigned – an unprecedented event in the 61 years of this Republic's history and constitution. The election for the next president will be next Wednesday.
Now, I don't want to speculate about why Köhler left his office prematurely, and I don't want to talk much about him, as he is a man of the past (for a biography in German, please read Gerd Langguth's 412 page-long book; at the BL @ YF.2007.a.27282). Rather I want to point out three things: first, who will be the candidates for this election; second, who votes in this election; third, what might be another outcome of this election's result.
First, the current government nominated Christian Wulff (sorry, only available in German, but it will give you an idea of him) as a candidate; unlike, Köhler, Wulff is a full-time politican, having been the Minister of the state of Lower Saxony since 2003. The candidate supported by the Social Democrates and the Greens is Joachim Gauck, an independent non-politican, who came to prominence as the first Federal Commissioner for the Stasi Archives (the post-reunification archives of the East German Secret Services). Even though it is unlikely that the third and fourth candidates will win, one should list them here: Luc Jochimsen, a former journalist and TV presenter of political programmes, is supported by the "Left Party" and Frank Rennicke, a singer-songwriter from Lower Saxony, who was nominated by two far-right parties.
Second, due to Germany's bad experiences with electing a (federal) president, the post holder's remits are mainly representational, but s/he has to ratify new legislation. Because of this more representational job specification and the disastrous results of the Volk electing Paul von Hindenburg in 1932, it is maybe not surprising that the president is elected by a Federal Convention, instead of directly by the citizens of Germany. On the one hand, this Convention is made up of parliamentarians (from the Bundestag, the equivalent of the UK's House of Commons). On the other hand, an equal number of non-parliamentarians represent the federal states; some of these representatives of the Länder (federal states) are not politicians and are sports(wo)men, artists and other luminaries.
Third, if Wulf is elected as new federal president, his successor as Federal Minister of Lower Saxony will be a politician called David McAllister, born in West Berlin to a German mother and, you maybe guessed this, a Scottish father. Therefore it is probably unsurprising that his web page is also available in English!
So don't think, "Oh, it's only Wulff as a Federal President!", but do think "Hey! Mukker!", and don't worry about Lower Saxony - McAllister will do the job!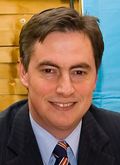 David McAllister (photo by Torsten Bätge; used under Creative Commons Attribution ShareAlike 3.0 License)
[CG]