'It hardly seems possible that a country which might very conceivably form a setting for Anthony Hope's Prisoner of Zenda exists today; yet such a Monarchy is Liechtenstein' – not my own words, but those of an advertising leaflet of 1930 [BL shelfmark 10196.n.30.].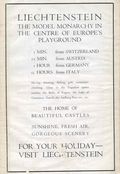 When the annual report of the Liechtensteinische Landesbibliothek arrived in the post last week, it made me realise that we've not yet devoted a post to the smallest German-speaking country.  Sandwiched in an Alpine valley between Austria and Switzerland, poor little Liechtenstein isn't even represented in the DACH acronym, yet it is part of our remit within the BL. 

Mind you, 'poor' is not an adjective that many people would associate with Liechtenstein, as it's actually one of the richest countries in the world, regularly topping international tables of GDP per capita. Indeed, Liechtenstein is probably most famous for money: the greatest international news coverage the principality received in recent years was over criticism of some of its financial dealings, since when reforms have been introduced to make Liechtenstein a more transparent financial centre. Another bit of news which you might have heard was that a referendum in 2003 granted the ruling prince unusually extensive political powers for a modern European monarch; he can, for example, veto laws and dissolve parliament.
So, we have a wealthy microstate ruled by a prince, and since castles and mountains figure heavily in promotional images you can see why Ruritania springs to mind. But what else might you associate with Liechtenstein? I have to admit that, even after 17 years of occasional dealings with Liechtenstein publications, it's hard to answer that question. So I turned (of course) to the BL catalogue for inspiration.
A volume of essays exploring Lichtenstein's 'national identity' [X.0700/565(34)] seemed a good place to start, although it suggested as many identities for the land and its people as there were essays in the book! However, a couple of the authors mentioned the 1848 revolution as a turning point, which of course grabbed my interest. I hadn't realised that the revolution affected Liechtenstein, but anther collection of essays, Liechtenstein und die Revolution 1848 [YA.2001.a.22683], put me right, and introduced me to Peter Kaiser, a historian and politician who represented Liechtenstein at the Frankfurt Parliament and persuaded Prince Alois II to accept political reform.
In terms of culture, Liechtenstein has inspired literature (there's an extensive German-language survey by Scottish academic Graham Martin [YF.2009.b.2559]), and the ruling house's appreciation of fine art is evident from the magnificent collections in Vaduz and Vienna. But even the most loyal Liechtensteiners could hardly claim that their country has made any significant cultural impact of its own. Yet perhaps Liechtenstein's very modesty and comparative obscurity are a strength, keeping the principality as 'unspoiled' as the 1930s advertisers found it.
But I should mention before I finish that Liechtenstein made UK headlines again last week when their football team almost held Scotland to a draw. So three cheers for plucky little Liechtenstein – not forgotten in the BL German section.
[SR]



View from Schloss Vaduz (Photo by Asknine2 granted as 'in public domain', see Wikimedia)