The 2010 WESLINE (West European Studies Library and Information Network) annual conference  took place at the beginning of September at the University of Manchester, organised by Helen Dobson, Rachel Kirkwood and Glynis Platt – all staff members of the wonderful John Rylands University Library. I flew in to Britain from the stormy beaches of the German North Sea coast, thrilled once again to be attending the annual gathering of librarians and academics with professional (and personal) interests in all things West European. WESLINE is now well-established: it was particularly pleasing to be meeting up with so many friends and colleagues from previous conferences, and also a wonderful opportunity to network with these and with new conference attendees and more recently-joined GSLG (German Studies Library Group) members.
The GSLG and WESLINE have, over the years, taken us up and down the country to a wide range of citi es and towns that are home to various research and university libraries. Manchester is a buzzing, cosmopolitan city, with one of the busiest bus routes in Europe operating along its Oxford  Road, where both the University and the Royal Northern College of Music are situated. The library visits were for me one of the highlights of a thoroughly enjoyable conference. The  neo-gothic John Rylands Library itself, constructed according to the directions of the formidable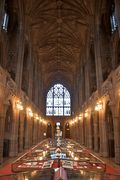 and visionary Mrs Enriqueta Rylands, contains Manchester University's outstanding special collections.
Historic Reading Room, John Rylands Library. Photograph by Mike Peel from Wikimedia Commons
Chetham's Library is the oldest public library in the English-speaking world, housed within superb mediaeval college buildings that date from 1421, nucleus of the 'Hospital School and Library' founded in 1653, and now occupied by both the Library and the world-famous Chetham's School of Music. 
Halt die Ohren steif! We are all operating within difficult economic conditions currently, and the theme of this year's conference was designed to address this with the theme of 'Keeping Calm and Carrying On: Level-headed librarians in a time of financial trouble'. I, for one though, felt extremely calm and relaxed, not having the responsibility, as I did at last year's WESLINE conference in Durham, of organising the event! Libraries, universities, and the public sector are being challenged and tested by the drive for financial savings, and attendance figures at this year's conference may have been, in part, the victim of cuts to organisations' training budgets. There were, however, many excellent sessions at the conference, and those who were able to come along were clearly stimulated and entertained by what they heard. We were treated to an inspiring introduction to the conference from Phil Sykes, current chair of RLUK (Research Libraries UK, formerly CURL), a fascinating accounts of the British Library's newspaper strategy by Ed King of the BL's Newspaper Library, and, for Germanists in particular, an absorbing paper by Manchester University's Dr Matthew Philpotts on the famous and ground-breaking, East German-founded  periodical Sinn und Form and on periodical studies as an interdisciplinary field of growing prominence and renown.
Networking with colleagues from different institutions is always a refreshing experience that enables you to pick brains, pick up new ideas, and pick yourself up. As ever, after a GSLG or WESLINE event, I returned to my institution brimming with ideas, invigorated by the professional exchanges and debates and the personal camaraderie, and yet more determined to 'keep my ears pricked'!
[DM]