It's that time of year again. In the middle of Leeds, where I live (being based primarily on the Library's northern site, twenty-something miles away near Boston Spa), the German Christmas market has opened for business, selling such delights as hand-made toys, smoked meats and Stollen to the streams of visitors who pass by each day. Most popular of all is the beer hall, which stays open hours longer than the stalls, and from which the sound of music of all kinds can be heard far into the night.

The Christmas market – whose organisers come from Frankfurt - has been an annual event for the best part of a decade now, and Leeds is far from being the only British city that has one. An appetite for painted houses and hearty food seems to have captured the English-speaking world in the last few decades. I saw the same thing in the Pacific north-west of the United States a month or so ago. Washington and Oregon both have more people of German descent than of any other ancestry, but that is not the only reason for the Germanic influences evident there.

Aurora, Oregon, a small town established as a self-sufficient Protestant commune in the 1850s, continued to be German speaking to some degree until the 1930s. Today, though, the town's museum, which tells the story of local families and displays handicrafts in several original buildings, is the only prominent evidence of this history. As in many places, the coming of the railroad slowly broke down the community's social and linguistic cohesion. Today Aurora resembles most other picturesque clapboard towns, from New England to the west coast.

Not far away, Mt. Angel is named for the Swiss city of Engelberg from which many of its inhabitants first came, and known for its Abbey and strong Catholic tradition, which also serves Oregon's large Hispanic population. Because of the sound of Spanish being spoken, and despite a huge Glockenspiel on one corner, the town does not have a pre-eminently Germanic feel to it, except perhaps during the annual Oktoberfest.

By far the best known of the German towns in the Pacific North West, however, is Leavenworth, in Washington. Set in a deep valley cleft through the Cascade mountain range by the delightfully-named Icicle Creek river, Leavenworth was a 19th-century logging and railway town with no claim to any specifically German heritage. Between 1920 and 1960 it suffered a slow decline as its industry fled, leaving it almost as a ghost town. Finally, the locals had a brainwave: looking up at the spectacular backdrop of the wooded Cascades, they decided to convert their town into an alpine village. Studying Bavarian architecture and design, they reconstructed shop-fronts and built new farms and barns, turning Leavenworth into a convincing double for any south German resort, complete with flags in the blue and white Bavarian colours and restaurants named after Ludwig II. German street signs vie with tongue-in-cheek store names ("Das Copyshop"; "Haus of Angels") for the visitor's attention.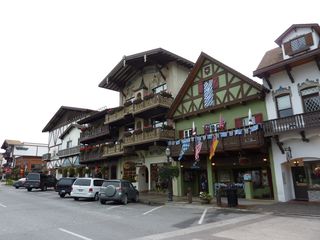 Today, Leavenworth is a booming tourist destination which runs a series of festivals, from the ubiquitous Oktoberfest to Christmas lights celebrations. It is also a base for outdoor sports and visits to other parts of the Cascades, and a
popular weekend destination from Seattle and further afield. This ensures that it can escape the charge of being merely an ersatz "Bavarialand", especially since many people of German descent have chosen to move there; it even has its own German-language newspaper now.

Greg King, a friend of mine from the Seattle area, became fascinated as a child with Bavarian castles and architecture. He grew up to write a biography of "mad" King Ludwig II (BL copies at YA.2001.a.26085 and 98/07637), and still speaks almost poetically about childhood trips to Leavenworth. In the days before he was able to visit Bavaria itself, the Washington town with its mountains, rivers and picturesque painted houses proved a more than adequate substitute. Today, he says, if he had the money of fellow Seattle resident Bill Gates, he would buy a couple of mountains and build replicas of Hohenschwangau and Neuschwanstein to complete the one missing aspect of Bavaria-in-the-Cascades!
Janet Ashton (West European Cataloguing Team Manager)