My title isn't a self-critical reference to the length of time since my last post, but a small celebration of the fact that I've recently been able to restore a book to the BL's collections after nearly 70 years.
The obvious question is, why did it need to be restored? Well, our original copy was one of over 200,000 volumes destroyed when a German bomb hit the British Museum in May 1941. One section of the bookstacks surrounding what was then the Library's Reading Room took a direct hit. Books from many countries on many subjects were lost, but perhaps ironically, German publications were among the hardest hit as the area destroyed housed books in subject areas where German scholarship was particularly strong in the late 19th and early 20th centuries, such as archaeology, theology and art history.
In the decades after the war, libraries worked together to provide each other with microfilm copies of items lost or destroyed in the conflict. Many of our books were replaced this way, but many others remain missing and are flagged in our catalogues as destroyed. So when I'm checking a secondhand or antiquarian bookseller's catalogue I'm always pleased if I find a potential replacement for one of the titles still missing.
And that's what I've done here. The book in question Die Kunst, alle Arten Abgüsse und Abdrücke  ... &c. ... zu verfertigen, is a rather odd one, classed in the typew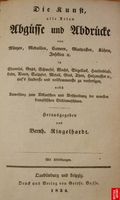 ritten registers of destroyed books under the heading 'Useful Arts'. It's a guide to making casts and impressions from all kinds of originals – from coins to insects – using materials ranging from plaster to metal foil: the full title lists six types of originals and thirteen types of material, each list ending with '&c'.  Bernhardt Ringelhardt, about whom I can find no other information, is named on the title page as editor; he was presumably the author of the first two sections, but apparently adapted or translated other parts from the works of others ('Altmütter', 'Gill' and 'Nadau' are named). A fold-out plate at the back of the book shows the design of a machine for making impressions of coins and medals. It is apparently aimed at collectors who wish to supplement their collections with copies of items they don't themselves possess.
Perhaps it's not the most exciting purchase or the most wanted title in our catalogue (and before anyone rushes to order it, I've not yet taken it up to our shelfmarking staff so it won't be available quite yet!). Nonetheless it's good to have it back and to fill another small gap left by the ravages of war. And there's a wonderful feeling of continuity in adding my own annotation to those of generations of previous library staff in the typewritten registers of destroyed books, stating when and in what form the item was replaced.
[SR]