Well, the Olympics are over and although I was one of those converted cynics who became an unexpected sports devotee for two weeks, I'm sure my interest in running, cycling, rowing and the rest will ebb away. However, there is just one sport which I'll always voluntarily watch: Gymnastics.
What I didn't know when I first got hooked as a child watching the Olympic performances of Olga Korbut and Nadia Komǎneci was that modern gymnastics owes a lot to Germans. Two writers in particular were influential in making gymnastics an important and respected part of sporting education.
The elder of these, Johann Christoph Friedrich GutsMuths, wrote the first systematic guide to gymnastics, based on his own experience teaching at a progressive school. In his Gymnastik für die Jugend (1793; BL shelfmark C.105.a.12)  he argues for a greater emphasis on physical training in education and describes specific exercises. Many –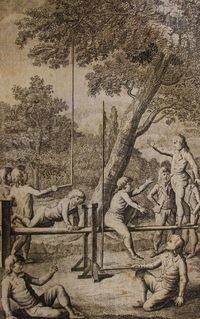 including running, jumping and swimming  – would not be considered as gymnastics disciplines today, but GutsMuths also advocates vaulting, swinging and exercises on a beam.
[Beam exercises from GutsMuths Gymnastik für die Jugend (Schnepfenthal, 1793). BL: C.105.a.12]
If GutsMuths laid the foundations for a revival of gymnastics, the sport was expanded and popularised by Friedrich Ludwig Jahn, whose influence earned him the title of "Turnvater" – the father of gymnastics. He popularised the motto "frisch, fromm, fröhlich, frei" (a 19th-century English version of which forms the title of this post) to characterise the pleasures and virtues of physical exercise.
In 1816 Jahn and his assistant Ernst Eiselen published Deutsche Turnkunst (BL 785.f.32.). The exercises and apparatus they describe are more recognisably the ancestors of today's gymnastics, although the pommel horse is rather charmingly illustrated with a tail in imitation of a real horse, something that might surprise modern gymnasts! However, a book of illustrated exercises compiled by Eiselen in 1845 (BL 785.f.29) shows pommel horse (and other) exercises which would probably be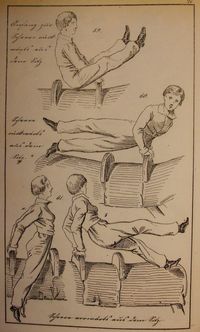 recognised by my personal 2012 Olympic hero, Louis Smith and his colleagues.
[Pommel horse exercises from Abbildungen von den Turn-Uebungen, (Berlin, 1845) BL 785.f.29]
As well as promoting gymnastics, Jahn was a passionate advocate of a unified, constitutional German state. Although his nationalistic writings were taken up enthusiastically by the Nazis in the 1930s, his aspirations seemed suspiciously liberal to the Prussian establishment of Jahn's own time, and he was imprisoned as a subversive for several years. Gymnastics, tainted by association, was officially banned in Prussia for two decades.
The ban was never fully enforced, but it led many of Jahn's supporters and fellow-gymnasts to emigrate. They took gymnastics with them, especially to the USA, but it was an enthusiast of a later generation, Ernst Georg Ravenstein, who formed the first gymnastics club in Britain in 1861.
In 1865 the club moved into a splendid purpose-built Gymnasium; the building still survives between King's Cross and St Pancras stations – a stone's throw from where I am writing this – although no longer as a gymnasium. The Times on 30 January 1865 reported that its opening ceremony on the previous Saturday had been "characterized by … cordiality and enthusiasm" and "prolonged till a late hour".  Something else today's Olympic gymnasts might recognise from London's opening and closing ceremonies!
[SR]