DACH seems to have an appropriately sporting theme this summer, what with Susan's entries on the Olympics and mine about the hiking and biking territories of Saxon Switzerland. It seems only appropriate, then, that my current one should be about another place the hikers love and loved – Silesia.
Silesia has over the centuries variously been attached to Poland, Bohemia, the Holy Roman Empire and Prussia. Today, the majority of it is again in Poland, but this blog entry concerns things which happened in the then predominantly German-speaking Lower Silesia during part of the 200 years between 1742 and 1945 that it was attached to the Kingdom of Prussia.
I used to think that Silesia's name evoked a wild and empty land, where castles stood on lonely rocks against a lowering sky and people went to hide away, only to be trampled and swept west by an advancing Red Army. The reality of the Silesian countryside is actually a lot sunnier and far more civilized, but the pre-1918 German aristocracy certainly looked upon the area as a romantic hideaway destination.
Military manoeuvres in Lower Silesia's most important town, Breslau (now Wroclaw), loomed large in the time and attention of Prussia's ruling class, and between 1820 and 1900 the Hohenzollerns themselves more or less colonised the Hirschberg Valley nearby, reconditioning existing castles and building new ones to retreat to when duties were done. The finished efforts ranged from turreted fantasies to more modest places resembling suburban villas. Here, against the idyllic background of rolling fields and distant hills, they could hike, hunt, nurse grudges and pursue their family quarrels in peace.
Strangely, this seems to have driven nearly everyone else away, apart from the multinational Schaffgotsch family who originally owned everything in the area, and held a few places in reserve so they could monitor what was going on. With romantic gardens, exclusive little spa towns, footpaths, miniature carp ponds and gothic follies abounding, the Hirschberg valley in its heyday must have been more like Marie Antoinette's toy farm on a grand scale than the desolate frontier of my imagination!
Krummhübel and Schreiberhau, little towns on the edge of the Giant Mountain (Riesengebirge) range just outside the valley, catered to less privileged tourists who cared more about mountains than manoeuvres. Two different hiking clubs called the Riesengebirgsverein grew up on either side of the Bohemian/Prussian border here in the late nineteenth century. Between them they constructed a full network of trails and mountain huts; and the resorts also began to attract skiers.
My old impression was correct in some ways: the Red Army really did sweep everything before it, and today most of Silesia is Polish-speaking, its towns renamed and population from the German-speaking areas relocated. The people living in Lower Silesia now are descendants mainly of refugees from Lviv, themselves driven north and west by the Russians. The Hirschberg (now directly translated as Jelenia Gora) Valley's devastated castles languished for a long time, seen as very low priority by a country intent on forging a resolutely un-German identity for the area, and on caring for a war-exhausted population.
Of late, though, there's been a remarkable renaissance. As the Germans came back on holiday and the Polish economy grew enterprising individuals began to acquire the shells of the former imperial retreats, transforming them into holiday homes accessible to everyone. In 2012, Jelenia Gora Valley has a surprising concentration of castle hotels, with more to come, oases of sophistication set on tiny rural roads in little villages perhaps more obscure and isolated today than they were in the Prussian era. You can buy glossy little books about their histories at the hotel receptions, and explore the romantic ruins of the estates still to be restored. Accessible they certainly are, though: a stay in a Hohenzollern castle such as Wojanow (previously Schildau) will cost you less than a motel in the UK. Just don't tell everyone
Janet Ashton (who also took the pictures)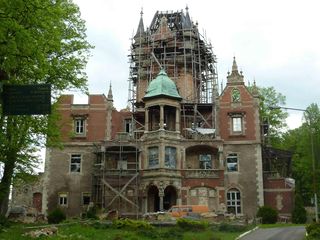 Before (Bobrow) ... 
                 ... and after (Schildau/Wojanow)