In past years we've blogged about joint Wesline conferences in Durham and Manchester. This year, however, the German Studies Library Group celebrated its 25th anniversary independently with a conference in Halle as guests of the University and State Library.
Halle's quite a small city, and not terribly well known to Brits if the reactions of friends and colleagues were anything to go by. But it's an attractive place, relatively undamaged by the ravages of the 20th century, and culturally it punches above its weight. It was the birthplace of the composer Handel (or Händel to the Germans), and was a major centre of German Pietism. This movement influenced not only the foundation of Halle university but also that of August Hermann Francke's influential and, for its time, progressive orphanage and school. We visited this marvellous complex of 18th-century buildings and its historic library during the conference, and  I almost envied the orphans – until I heard about the busy schedule and strict supervision…
As well as Pietism, Halle University was influenced by enlightenment ideas, and was among the pioneers of teaching and research methods that made German scholarship hugely influential in the later 18th and 19th centuries. Such an 'enlightened' university naturally recognised the importance of a strong library, but it was not until the late 19th century that the main collections were brought together in a designated (and again pioneering)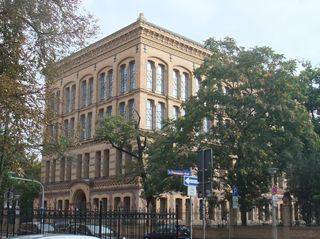 building – we were lucky enough to be allowed up into its flat roof for stunning views over  Halle! Even now there are several departmental libraries – although far fewer than the 92 which the current director discovered when he arrived in 1997.
As well as climbing about on rooftops, we enjoyed a fascinating programme of talks and visits. It was interesting to learn about others' experiences with projects and systems the BL is currently involved with, particularly Google Books, new catalogue searching software, and the proposed new cataloguing rules, RDA. The fact that colleagues from both countries were involved in the same projects and using the same systems shows how international librarianship is becoming. We encountered another sign of the times on a visit to the very modern law library when one of our group asked if there was a laptop-free zone in the building and two students working nearby laughed incredulously at the very idea.
On our last day we visited the German National Library (DNB) in Leipzig. Founded in 1912 as the Deutsche Bücherei,

it has just completed a new extension which will be fully open in time for the centenary celebrations next year. It was interesting to compare the history and practices of the German and British national libraries. The two major differences are that the DNB collects only material published in or relating to Germany, and that there is a charge for reading room use, an idea greeted with outrage whenever suggested here! 
We ended our day in Leipzig and our 25th anniversary conference with a concert of Mendelssohn and Bach at the Gewandhaus. As ever it had been a stimulating few days of formal and informal exchanges, making new contacts, renewing old ones, and getting a glimpse of the wider library world in both the UK and Germany.
[SR - who also took the photos]