On July 4th, a retired politician died at his home in Bavaria. If this were a fairy story, the astonished neighbours would only then have learned of the extraordinary life and pedigree of the modest old man next door. But it isn't a fairy story, and everyone who knew his name recognised the genial Dr Otto von Habsburg as the former pretender to the Austro-Hungarian throne, the last Crown Prince of the empire that once dominated central Europe.
Born in November 1912, Franz Joseph Otto Robert Maria Anton Karl Max Heinrich Sixtus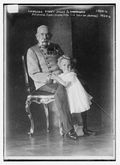 Xaver Felix Renatus Ludwig Gaetan Pius Ignatius, Archduke of Austria, would claim later in life to remember being photographed with his great-grand-uncle, Kaiser Franz Josef I, who succeeded to the throne in 1848 and was a last link with figures from the Napoleonic era. The span of their joint memories could claim to cover the best part of two centuries.  Aged four, newly elevated to Crown Prince, Otto walked through Vienna in Franz Josef's funeral procession. It was the last funeral held for an Emperor, though not quite the last to observe the particularly imposing ceremonies associated with Habsburg burials. Shortly afterwards, Otto attended the last Habsburg coronation, when his father assumed the Crown of Hungary in Budapest. Within two years, the Dual Monarchy would be defeated and the Habsburgs in exile, albeit without formal renunciation of their rights and powers.
Following the premature death in 1922 of his father Karl I, Otto was considered by monarchists to be the rightful Emperor. He learned most of the languages spoken in the former Habsburg lands, gained a doctorate in political science, and worked for his own restoration. It came tantalisingly close: for a time, the Nazis considered restoring him as a puppet monarch to bring legitimacy to their own regime in Austria. This option would have seemed attractive to many of his contemporaries in the German-speaking royal houses, but Otto refused to be a party to it or even to meet Hitler. Sentenced to death for his opposition to the Anschluss, he sought refuge in the United States, from where he lobbied against both Nazis and Communists with equal ferocity. After the war, he returned to Europe, but was barred from entering Austria until 1961, when he formally renounced his imperial claims.
For the rest of his long life, the former Archduke and Prince wrote books on politics and history [examples in the BL at YA.2001.a.17846 and YA.1995.b.6229] and worked for European unity, serving as a member of the European Parliament and head of the Paneuropean Union. Perhaps unsurprisingly, this descendant of so many Holy Roman Emperors was Christian and conservative in his politics, even admitting admiration for Francisco Franco, but he was tolerant to other faiths and had helped many Jews escape from Nazi Austria. He married a princess of one of the former German houses and they had seven children, several of who are also active in politics, the arts or the media.
Dr Habsburg was the last survivor of a world gone beyond recall, and a remarkable figure in his own right. Austria would mark his passing in a truly memorable way.
                                            ………..to be continued
Janet Ashton