With all the coverage of the upcoming royal wedding, I couldn't help thinking that there's one celebratory art which we've lost: that of the occasional poem to mark such events. I understand that even the Poet Laureate was initially uncertain about composing a piece for the event, and while no doubt plenty of amateur poets have written verses celebrating the royal couple, it's unlikely that many of these will make it into print.
Look back to the 18th century and it was a different story; royal births, marriages and deaths and coronations inspired outpourings of verse for printing and distribution. Loyal clergymen, schoolmasters, students, or civil servants were usually the authors, and showed off by writing in Latin or filling their verses with classical and biblical allusions. Inventive devices such as acrostics (can you spot one in this blog post?) and chronograms were also popular. And it wasn't only royalty who got the treatment. Many occasional verses were written – and printed –  for the writers' friends or family.
A collection of such verses which I have come to know well, among the many examples in the BL, is a volume of pieces from the province of East Frisia which we bought a few years ago [BL shelfmark RB.23.c.522]. Not only do they constitute a fascinating piece of social history, they are also fascinating examples of a genre almost forgotten today. Divided into categories – marriages, births deaths; royal and non-royal subjects –  they commemorate events in the lives of the ruling family and educated middle classes of what was then a small North German principality. Coincidentally, and poignantly, the collection covers what turned out to be the final years of East Frisia's ruling dynasty and thus of the principality's independence.
A particularly eye-catching wedding ode in the collection was composed for the wedding of Prince Georg Albrecht to Princess Christiane Luise of Nassau in 1709. This is a complex and striking example of a pattern poem, where the lines are made into a visual image. Hard to read as a text, though!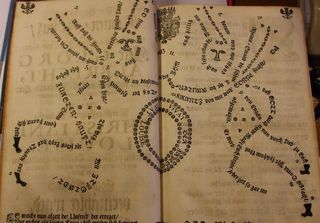 RB.23.c.522(14), "Der Seegens volle Rauten-Krantz...".
English monarchs of the period were also celebrated in verses like these, and as the 18th century saw the union of the British and Hanoverian crowns, many celebratory odes were written in German or by Germans to commemorate events in the lives of our first four Georges – there's a collection from the reign of George II at C.127.k.13.
Royal visits from England to the Hanoverians' German territories were a regular topic of such verses. In one example (Peter Johann Haber, "Als des ... Herrn Georg II. ... Ankunft in Dero teutsche Lande ... verehret wurde …", Hannover, 1755), the poet welcomes the King as "the Sun of our country", "best of Kings" and "hallowed monarch", and begs him to "stay longer, stay here for ever" rather than return to England.
Nowadays this kind of hyperbolic flattery, although standard in the occasional verses of the eighteenth century, would probably be a bit too much even for the most devoted royalists. Even so, the odd Latin ode or pattern poem might not go amiss among some of the tackier royal wedding souvenirs of 2011.
SR