The opening of our new "Writing Britain" exhibition, and the accompanying interactive map where website visitors can mark their favourite literary places, has made me think about German books I've read which convey a sense of place.
The Germans have a name for one kind of literature which celebrates a specific place: "Heimatliteratur". This refers to a popular, often kitschy genre which grew up in the late 19th century as a reaction to growing industrialisation and depicts an idealised version of rural life. The genre has recently merged with crime fiction to create the "Heimatkrimi", detective novels which play, sometimes semi-humorously, on local traditions and stereotypes.
Although they wouldn't be given the same label, there are more literary works which reflect the landscape and traditions of a particular region. Theodor Storm's evocative novella Der Schimmelreiter, set on the north German coast, is a great example. But most of the German literary locations which spring to my mind from my own reading are cities. 
Although never named in the novel, Lübeck is clearly the setting of Thomas Mann's Buddenbrooks. When the novel first appeared guides were published identifying the originals of houses, streets (and characters!) in Mann's fiction. This was, of course, missing the point. Like many great books which convey the spirit of a place, Buddenbrooks is not primarily "about" Lübeck, despite being permeated with the city's atmosphere.
Günter Grass is another author whose native city haunts his work from the early "Danzig Trilogy" novels to more recent autobiographical works. Today you can take a tour of sites in Gdánsk associated with his life and works, but like Mann, Grass uses the city not just as an identifiable physical location but also as a metaphor, in this case for the complexities of 20th century history.
Turning to a younger generation, Uwe Tellkamp's novel Der Turm is set in Dresden during the late 1980s. The "tower" of the title is based on the city's Weisser Hirsch district where Tellkamp grew up. I started reading the novel while on holiday in Dresden, coincidentally just after visiting Weisser Hirsch. Of course Tellkamp was no more writing a guidebook to his native city than Mann or Grass (although, just as with Buddenbrooks a century before, commentators have identified originals of the characters and locations in Der Turm). But being able to picture the places so clearly helped me to find my way into this complex and densely-written novel.
Finally, Berlin, especially the Berlin of the 1920s, is celebrated in many novels. Alfred Döblin's Berlin Alexanderplatz has been called "the most topographically correct novel of Berlin ever written", but it is Döblin's montage technique, juxtaposing excerpts from newspapers, tram timetables, popular songs and snatches of inconsequential talk, often in dialect, that really brings the city alive. The book is a difficult read and tells an often grim story of a man's attempts to lead an honest life on the margins of society, but it's worth the effort.
For a similarly topographically exact but far gentler view of 1920s Berlin, turn to Erich Kästner's children's classic Emil und die Detektive. To its young hero, fresh from his small-town home, Berlin is huge, bewildering and loud, but it's also a city where children play freely in the streets and courtyards and, in this case, help to track and catch the thief who has stolen Emil's money. Two very different books, but they both evoke a powerful sense of the same place at the same period.
[SR]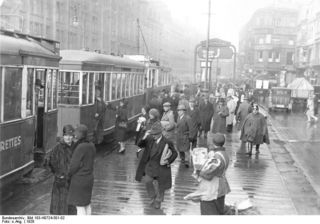 Berlin's Alexanderplatz in the 1920s (Bundesarchiv, Bild 183-H0724-501-02 / CC-BY-SA)