As part of her work on a forthcoming BL science fiction exhibition, a colleague asked me yesterday about examples of the genre from Germany. To be honest, I was stumped. I couldn't think of any internationally-known German sci-fi writers, and didn't remember ever coming across references to authors known within DACH but not abroad.
The only thing that immediately sprang to mind was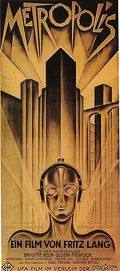 Fritz Lang's film Metropolis (1927). I didn't realise that this was adapted from her own novel by Lang's then wife Thea von Harbou. She wrote at least one other sci-fi novel, Die Frau im Mond (Woman in the Moon), also filmed by Lang. But colleagues in Exhibitions were ahead of me there and are already examining our copies of both novels and of an English translation of Metropolis with pictures from the film.
So I then turned my mind to literary fiction. I suppose it could be argued that Kafka's novels – and in particular his short story 'In der Strafkolonie' (In the Penal Colony) with its torture machine – share elements of science fiction, portraying encounters between 'ordinary' people and societies governed by alien and arbitrary rules. Similarly, Hermann Hesse's Das Glasperlenspiel (The Glass Bead Game), although lacking the technological trappings usually associated with sci-fi, nonetheless offers a vision of a future society which is part utopia, part dystopia, a typical theme of the genre.

Perhaps more on the 'forgotten classics' shelf are Paul Scheerbart, author of the 'Asteroid Novel' Lesabéndio (BL shelfmark: 12552.v.3), and Alfred Kubin who illustrated Lesabéndio as well writing and illustrating as his own strange dystopian fantasy Die andere Seite (The Other Side).
But these are all borderline cases and concerned more with philosophical allegory than with social and technologial speculation, let alone with pure entertainment. Surely there are examples of more popular German science fiction? Some secondary literature about the genre in fact provided me with the names of many writers, both popular and more literary, from Kurd Lasswitz, the 'father of German science fiction' in whose name an annual science fiction prize is awarded in Germany, to Andreas Eschbach, the most recent winner of that prize.
However, in terms of sheer scale if nothing else, the titan of German sci-fi must be Perry Rhodan, the hero of weekly serial stories first published in 1961 and still going strong after more than 2,500 weekly editions plus additional spin-offs. Although best known in DACH, Perry has followers worldwide (some English translations appeared in the UK and US in the 1970s, e.g. BL: Nov.34072). A Perry Rhodan Lexikon (BL: YA.1983.a.3370) was published back in 1983, and there's now an online 'Perrypedia' where fans (and curious librarians) can find out about all aspects of the 'Perryverse'.
So, there's more German sci-fi than I thought; I hope there'll be room in the exhibition for some of it!
[SR]