You might want to steer clear of Saxon Switzerland on Ascension Day – that is, if you'd like to leave the country with any intact illusions about German trains running on time, or other national stereotypes.
Ascension Day is a public holiday in many European countries, and because it falls on a Thursday in May a lot of people take a long weekend and go away for the first break of the summer. In Germany, where it's called Himmelfahrt, it is also celebrated as Vatertag, Father's Day, particularly in the Protestant states or those which were once in the GDR and disavowed religious festivals for a while. Its traditions are said to date back to days when men from rural communities would roam the countryside in spring, drinking to a good harvest.
Saxon Switzerland – and the adjoining Bohemian Switzerland – is the national park which lies alongside the Elbe between Prague and Dresden. Most British people I've spoken to about it have never heard of it and assume it's actually in Switzerland. Its rolling landscape punctured by weird sandstone rock formations and soft green forests actually look nothing like its namesake, but it was given the name by artists in the Romantic era, who loved to go there to paint. Hans Christian Andersen, Rainer Maria Rilke and other such literary luminaries followed, leaving accounts or poetry, which of course the BL holds, of their ramblings through the rough and dramatic countryside. [e.g. 10027.bb.20.]
In the late nineteenth century mass tourism arrived, strongly encouraged on the Bohemian side at least by local aristocrats, who saw the opportunity to transform the backward, rural area to everyone's advantage. Some examples of contemporary hiking maps can be seen in the BL – e.g. at Maps 29332.(22.) and Maps 29332.(20.). The landmarks on the Bohemian side of the border still bear the names of members of the Kinsky or Clary-Aldringen dynasties, and the hills are dotted with memorials to hotel-owners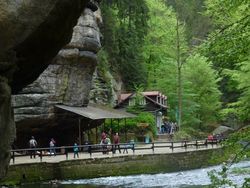 with names like Fiedler, ghostly but unselfconscious reminders of the German-speakers expelled after 1945, whose descendants now come here on holiday. There are footpaths and viewpoints, boat rides, cycle tracks and pensions galore.
Dresden's shiny new S-Bahn runs down the Elbe as far as the Czech border, delivering the many day trippers from the city to gaze at the grim Konigstein fortress, and wander across the vertiginous Bastei bridge.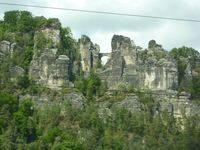 More serious hikers stay for days, and I knew something was up when I had trouble booking a room for May 17th in any of the picturesque towns along the river. That morning, Ascension Day, all the cafes had hogs roasting on spits outside at 9am, and people watched with pints in their hands. The trains were running terribly late, and when they finally limped into the stations they would disgorge hordes of gasping people, fanning themselves and struggling not to fall in the crush. Men bent on celebrating Vatertag pulled home-made carts with beer and even barbecues on them, and there were ingenious devices for carrying tiny bottles of spirits attached to their belts like ammunition. The low carts are not unique to Saxony; they have become a stereotype of the Ascension Day celebrations in Germany. Most of the revellers seemed very good-natured, though were a handful of exchanges between police and shaven-headed youths from the darker corners of Dresden. 
For obvious reasons, Vatertag is not universally popular in Germany. By evening, however, the men had all trooped home again, leaving the bucolic delights of Bad Schandau, Konigstein, Rathen and Wehlen to more sedate weekenders and family groups, while police barges cruised the Elbe vainly looking for any stragglers.
The trains took their time getting back to normal, though!
Janet Ashton (who also took the pictures)