Today, 11th November, is Armistice Day, marking the official end of the First World War. Even after almost a century, the date  retains a poweful symbolism, and in Britain the commemoration of the First World War has shaped the way in which we officially remember the dead of all modern conflicts, not least through its poetry. Remembrance services include the passage beginning "They shall not grow old…" from Laurence Binyon's 1914 poem "For the Fallen", and participants wear and lay wreaths of artificial poppies, a custom inspired by the Canadian John McCrae's "In Flanders Fields".

Poetry also influences our perception of the First World War itself. Most people today, if asked to name figures associated with the war, would probably think more readily of Wilfred Owen, Siegfried Sassoon and other writers than of military or political leaders.

Given this close association of the the war and its poetry, and despite the fact that perhaps the most iconic novel of the conflict, Im Westen nichts Neues (All Quiet on the Western Front) came out of Germany, for some reason it didn't occur to me for many years that German poets also experienced and wrote of the war. A series of lectures in my second year at university opened my eyes to what should have been an obvious fact, and introduced me to the war poets "on the other side". Like that of their English counterparts, their writing reflects both the initial patriotic euphoria of 1914 and the realisation through the following years of the full, grotesque horror of trench warfare. Some had made their names before the war in the Expressionist periodicals Der Sturm and Die Aktion, but they were by no means part of a single movement or uniform in their styles and voices.

Alfred Liechtenstein, for example, used the deceptively simple metre and ironic attitude of his poetic hero Heine in poems like "Gebet vor der Schlacht" (Prayer before Battle), in which the soldiers pray for the fatal bullet to hit a comrade instead, or for a minor wound which will send them home. More radical stylistically was August Stramm who used experimental syntax and word coinages to reduce his poetic language to a spare, staccato intensity; his lines often consist of just one word. By contrast, Anton Schnack, used long lines, free rhythms and a rich, almost sensual, language to create a very different yet equally intense impression of the experience of war.

For English-speaking readers a good introduction to the genre and its writers in Germany is The German Poets of the First World War [BL. X.950/42007 and 85/14025 DSC] by Patrick Bridgwater (who, incidentally, gave those eye-opening lectures). Or for an overview of writers from many countries whose lives and careers were cut short, the international anthology (with translations) The Lost Voices of World War I [BL: YA.1994.b.8840 and 90/10394], dedicated "to the lost voices of all wars", would make suitable reading for a day of remembrance or of reflection on "the pity of war".
[SR]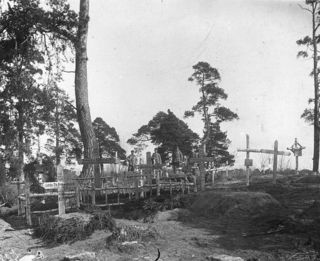 WWI German Soldiers' Graves on the Eastern Front (image from Wikimedia Commons)