You might be a bit surprised about the title of this post. You might be asking yourself "didn't he mean to write 'Holocaust Memorial Day' back there?" In November 2005 the United Nations recommended that each member state commemorates today, the 27th January, 'as an annual International Day of Commemoration in memory of the victims of the Holocaust' (see http://www.un.org/holocaustremembrance/docs/res607.shtml).But there is a longer history of marking this day of the year as a day to reflect on the suffering of victims of the Holocaust. Unsurprisingly, in Israel the 27th January (the day of the liberation of Auschwitz by Soviet Troops) has been a day of mourning for more than half a century.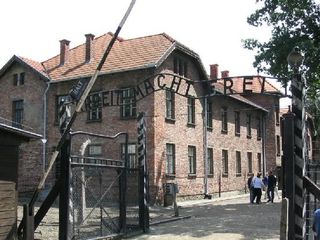 Photo by Timo Klimoff (granted as "in public domain", see Wikimedia)

The Federal Republic of Germany , perhaps equally unsurprisingly, took a bit longer to address Germany's own past with an official day of commemoration. However, the anniversary of the brutal acts of the night of 9th November 1938 (Reichspogromnacht, for many historians the night which started the anti-Jewish pogrom) has since 1978 been a yearly occasion for Germans to think about the Holocaust, and specifically the systematic acts of violence against Jewish citizens living in the Deutsches Reich. Thus calling the 27th January 'The Day of Remembrance for Victims of National Socialism' is a reminder not only of the overwhelming numbers of Jewish victims, but also of other groups persecuted by the Nazis: including homosexuals, Roma and Sinti people, and outspoken political opponents of the regime. The official UK Holocaust Memorial Day also seeks to remember all these and indeed victims of other genocides since 1945.
However, you choose to remember, may I invite you to commemorate this day? You could explore the BL Sound Archive's Voices of the Holocaust, visit your local library and search for works on the Holocaust and on victims of Nazism, or find out about the collections of the Wiener Library which is not only the 'World's oldest memorial institution', but is based on documents and books collected since the 1930s. Whatever you do, please remember, so that history teaches us something.
[CG]