No, it's not DACH blog Springwatch, but these are some of the creatures I've encountered while preparing a talk to students on early German vernacular Bibles and Reformation tracts. This has been a regular event in recent years, organised with a lecturer from King's College as part of his course on the Reformation. It's always enjoyable to do, not least because the students themselves seem to enjoy it and show a gratifying interest.
I also enjoy preparing and presenting the material on my own account, since I get the chance to order up some fascinating and beautiful books and do a little research into them. I've discovered various useful facts about early book production and Bible translation over the years: did you know, for example, that the first printed Bible in a western vernacular language was in German? It was printed by Johann Mentelin of Strassburg in 1466 [BL: IC.506], long before Martin Luther's famous translation.
Another source of amazement and amusement is the level of mud-slinging that went on between Reformation pamphleteers on both sides. You can see some examples here. Fortunately for their opponents, both Martin Luther and his famous opponent Johann Eck had names which could easily be turned to abuse. Luther became 'Luder' (scoundrel) or 'Lügner' (liar) while Dr Eck could easily be abbreviated into 'Dreck' (filth).
This is where our donkeys and calves come in: a tract written by Luther and Philipp Melanchthon in 1523 describes two monstrous creatures, a hybrid of a fish and a donkey – the 'Papstesel' ('Pope-Donkey') – allegedly fished out of the Tiber, and the 'Mönchskalb' (Monk-Calf) allegedly born in Meissen [BL: 3906.c.64]. The grotesque beasts are used to illustrate the vices of which Luther and Melanchthon accused the Catholic Church and its clergy.
The nightingale comes as something of a relief after these monsters. It appears in a long poem by Hans Sachs called Die Wittembergisch nachtigall [BL: 11515.c.18.(4.)].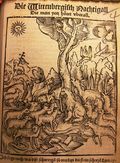 It portrays Luther as the nightingale whose song heralds a new dawn, despite being hounded by savage beasts. As a Wagner fan, I'm afraid I know both poet and poem best from the opera Die Meistersinger von Nürnberg where Sachs is a principal character and the poem's opening lines are sung in his honour by the chorus in Act III. The real Sachs, of course, only intended to honour Luther, and followed this poem with a series of dialogues, including one in which a Protestant shoemaker (like Sachs himself) defeats a Catholic canon in argument. I'll be showing that to the students too, but as far as I know, no animals are involved.
[SR]