In a previous post, 'cunningly' titled Discoveries 1, I had promised you further insights into publications and issues I come across during my normal curatorial work. Here is another instalment, or "discovery".
I'm working on a project relating to some boringly dull librarian issue which I won't enlarge on here now, and whilst checking a book within the context of that project I came across:
Deutsche Sprüche / (Hamburg : Hanseatische Verlagsanstalt, 1935.)
W90/4816
When I looked at the cover, I immediately thought: don't judge a book by its
cover.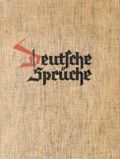 However, what I saw plus the year 1935 didn't bode well for what was between its covers. The table of contents suggests that there are three sections to this book:
Die neue Sittlichkeit [The New Morality], 50ish pages


Volk und Vaterland [Volk and Fatherland], 15ish pages


Religion, 30ish pages
Okay, you see already that the clear winner is The New Morality, which covers about half the pages of this publication of quotations. The next page is a quotation, almost like a dedication page, signed by "Dr. R. Ley" in April 1935. The first sentence is 'Diese "Deutschen Sprüche" sind herrliches deutsches Gut.' ['These "German Proverbs" represent the splendid German good/property'].
In case you didn't know either, Dr. Robert Ley was the 'Reichsorganisationsleiter' in these years, and was an important NSDAP (the 'Nationalsozialistische Deutsche Arbeiterpartei', National Socialist German Workers' Party) politician, who then became responsible for building houses (these good deeds are easily forgotten because of him being responsible for anti-semitic as well as other nasty propaganda and actions - particularly often aligning Hitler with a god-like, infallible figure in his speeches).
Obviously the selection of quotations and authors will reflect contemporary taste and knowledge (or even the Zeitgeist), but some material in here is odd. For us it now seems a bit weird to have one quotation each of the following people, if I just pick page 25 as an example:
First, there is the final bit of a quotation by Joseph von Görres (1776-1848), apparently a publicist, historian and university professor; then 2 sentences by Hans Grimm (1875-1959) a novelist and dramatist I have never come across myself. The next quotation on that page is by Johann Gottfried von Herder (1744-1803): 'Auch mit wenigem lebt man glücklich; zu verschmähen den Reichtum ist auch Reichtum; nüchtern-fröhliche Armut machet nüchtern, tapfer und fröhlich.' ('One can also live happily with very little; to disdain riches is also a kind of riches; sober and happy poverty makes [one] sober, courageous and happy.' - please don't blame me for the tautological ring of the adjectives and words used here - that's in the German!)
Then we get to not one, but five statements by Adolf Hitler (1889-1945) - that's not maybe that surprising seeing that this is in the section of 'Die Neue Sittlichkeit' [The New Morality], and I won't quote one of his sexist 'pearls of wisdom' on the man who goes out to show 'courage' on the battlefield, whereas the woman 'devotes herself patiently' by 'patient suffering and bearing'. As with the Herder quotation (see above), one feels that the choice of such a statement was based on how many words were re-used in the shortest space, but it also shows to me something I already had discovered while skimming 'Mein Kampf' (no honestly, I couldn't bear to read this horrible tosh): Hitler was a really bad writer! One wonders whether there is a Ph.D. with a very factual analysis of his choice of words and
the limitations of his vocabulary; or was that in order to appeal to the simpletons of the Reich?).
Finally, the page concludes with Friedrich Hölderlin (1770-1843). By now you might have spotted that within this section on "morality" quotations and therefore authors are listed alphabetically.
However, it would be interesting to find a similar collection of British or indeed German quotations of any post-1935 year, and see how many even feature a section about 'new morality', and how the choice of authors would compare to this volume. Maybe something for these dark months? Maybe something for you to work on?
[CG]