24 January 2013
This week we had the lovely and so very talented Mia Ridge over to the Library to show a room full of curators and staff from across the library the beauty (and sometimes less so) of Data Visualisation for Analysis in Scholarly Research.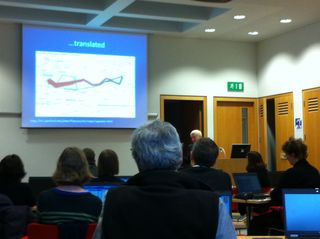 The course is part of a 2-year internal Digital Scholarship Training Programme the Digital Curator team dreamed up last year and officially launched this winter. Our goal with the full programme is to give hundreds of curators at the British Library the opportunity, space and support to delve into the key techniques and tools that define digital scholarship practice today. The ultimate aim is to equip ourselves with the appropriate skills and insight for supporting all you clever digital researchers out there!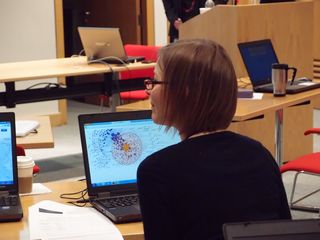 What we've created, in partnership with our excellent batch of instructors hailing from all over academia, is a whopping fifteen course curriculum. Covering a wide range of digital scholarship topics tailored specifically to the Library, each one-day course will be run repeatedly over the next few years to make sure all of our colleagues get a chance to participate. From Introduction to Digital Scholarship, Basics of the Web, Text Encoding Initiative, Geo-referencing, and Linked Data and API's in cultural heritage, our curators are getting their hands dirty in the world of bits and bytes and it's a truly exciting time to be at the British Library!
We've got a lot of territory to cover in what is actually a rather small amount of time but it has been a heck of a lot of fun so far and I'll share insights from future workshops with you here and via my twitter handle @ndalyrose. Stay tuned!
Visit Mia's resource page for a peek at some of the topics covered in Tuesday's course.