08 March 2013
Common Place Books, Total Fiction and Twitter
Here in the British Library's Digital Research and Curator Team we like nothing better than finding out about interesting digital research projects and hearing more about them. One of the wonderful benefits of living in London is the quantity and variety of free seminars available after work. Recently on the 26th February I attended a talk at the Centre for e-Research (CeRch) at King's College London on 'Digital recovery and intellectual history: the case of James Mill and Robert Fenn' by Kristopher Grint from the University of Sussex. Kristopher spoke about transcribing James Mill's common place books, but for me personally, the most interesting part of the talk was hearing Kristopher's exciting story of how he rescued Robert Fenn's lifetime's work from Fenn's Macintosh Plus, which was stored with the executor of Fenn's Estate in Canada and only took low density 800KB 3.5" floppy disks! Fortunately Kristopher managed to source some of these from eBay and after the data from Fenn's computer was transferred to them, the disks were sent to RetroFloppy for data conversion. The entire contents of Fenn's hard disk drive were provided as a 2.5MB Zip file and the actual files themselves were saved as Rich Text Format (RTF); meaning Fenn's formatting and footnotes had been preserved in addition to the actual transcriptions :-)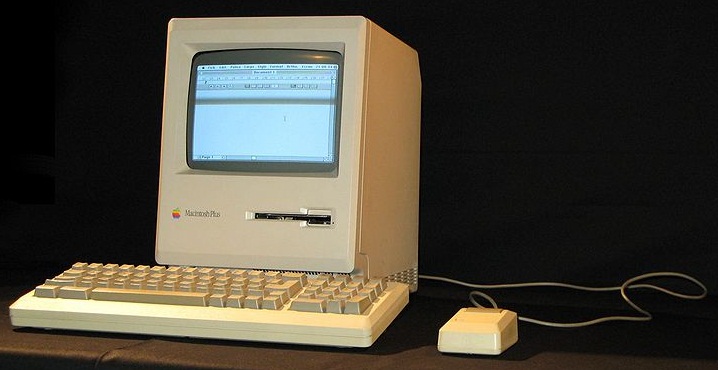 A Macintosh Plus, launched in 1986
If this post whets your appetite to attend more talks (and I hope it does), then the next CeRch seminar is on the 12th March about 'The Gothic and Computer Art' by Margaret Boden also from the University of Sussex.
A mere two days after Kristopher Grint's CeRch seminar, on the 28th February I attended another fascinating lecture, this time organised by the Centre for Digital Humanities (UCLDH) at University College London on 'What people study when they study Twitter' by Professor Shirley Williams from the University of Reading. Shirley spoke with passion about a range of studies undertaken using Twitter data, in which billions of tweets are collected and reviewed with the help of automated tools.
I also relish opportunities to get out of town and on the 6th March I was delighted to speak at the transdisciplinary common room, De Montfort University (DMU) in Leicester, where I gave a talk titled 'Reading into the future; the rise of total fiction?' as part of the Future Forecasting: 2025 series. All speakers taking part in this fun programme of talks are invited to offer predictions for the year 2025; mine are:
Printed books will still be published, mostly on-demand or in small print runs. They will continue to be collected and valued as objects
E-readers will have been replaced by multi-function mobile devices
Wearable technology will be ubiquitous and will include flexible screen technology
We will be used to reading non-linear narrative fiction
Returning back to London, I'm a big fan of the Digital History seminars at The Institute of Historical Research (IHR), University of London. Their next seminar is on Tuesday 12th March, when Ben Schmidt from Princeton University will be talking about 'Unintended Consequences: Digital Reading and the Loci of Cultural Change'. For those unable to attend in person, these seminars are normally streamed live online at HistorySpot and you can also tweet questions in the Q&A session immediately after the talk using the hashtag #dhist. Podcasts are also made available for those catching up some time after the event.
If you see me at a seminar, after the talk do say hello and stop me for a chat. There are often post seminar drinks arranged at these events; to enable the conversations to continue on into the evening.
Stella Wisdom, Digital Curator, @miss_wisdom