06 March 2013
We meet again, Mr Bentham, and you're being transcribed.
One of the perks of working at the British Library, I am quickly discovering, is getting to attend the C21st Curatorship seminars intended to keep staff informed of the latest developments and innovations in archives, librarianship, bibliography and museology. So far, I have come out of each talk inspired and enriched by the new information and efforts of both speakers and organisers. Last Thursday, I was excited to hear Tim Causer talk about an old friend from UCL, Jeremy Bentham, whom I haven't seen in quite a while and whose unpublished work is currently at the centre of the Transcribe Bentham project.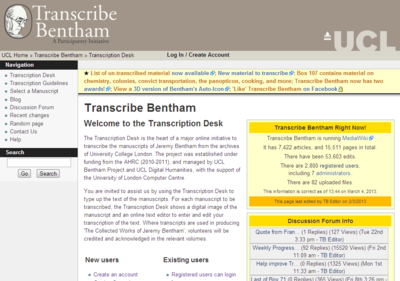 With funding from the Mellon Foundation, a large part of UCL's vast collection (60,000 manuscript folios) of Jeremy's unpublished work has already been digitised, and there are now plans to digitise the British Library's Bentham collection of 12,500 manuscript folios. The digitised manuscripts are made available for crowdsourcing via a transcription tool which calls upon volunteers – students, researchers, general public, anyone can register and contribute – to create a profile, pick an item, and start making sense of the thick handwriting and annotations, as well as the transcription tool itself. After the necessary quality checks, the submitted transcripts and corresponding manuscript images are made available online on UCL Library's Digital Collections to widen access and ensure long-term preservation of the originals.
One of the most interesting elements presented was the way voluntary transcribers operate and interact. From casual users curious about the tool, to assiduous and much appreciated 'super transcribers' doing the bulk of the work, visitors of the site enjoy a community like environment, with a blog, a forum to discuss any issues, and a scoring system - to introduce a healthy level of competitiveness among transcribers.   
Transcribe Bentham is a terribly ambitious project that relies on users to give some of their time to research, and it represents one of the many positive, cooperative aspects of the Web. Unsurprisingly, in September 2011 Transcribe Bentham was honoured with an Award of Distinction in the Digital Communities category of the Prix Ars Electronica; the world's foremost digital arts competition.  And as a spin-off from Transcribe Bentham, UCL are now also involved in an EC-funded project called tranScriptorium developing handwritten text-recognition software, which would work much like OCR for printed text.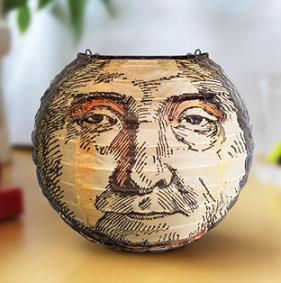 No wonder he looks so pleased with himself on the lanterns UCL is sending to its alumni in the post! To get involved with the project and put an even brighter smile on Jeremy's waxen face, follow the project on Twitter @TranscriBentham, and have a look at these helpful guidelines on how to start transcribing.