27 February 2014
The Strawberry Thief and Off the Map 2014
Yesterday I had the pleasure to visit Sophia George's studio at the V&A. Sophia is currently their first videogame designer in residence and she is working on a game based on the Strawberry Thief textile pattern (V&A:T.586-1919) designed by William Morris in 1883. Sophia demonstrated a demo version of the game; the basic premise is that the player guides a moving bird to eat the red strawberries and avoid the green ones. It has been inspired by popular games such as Candy Crush Saga, which are enjoyed by all different age groups.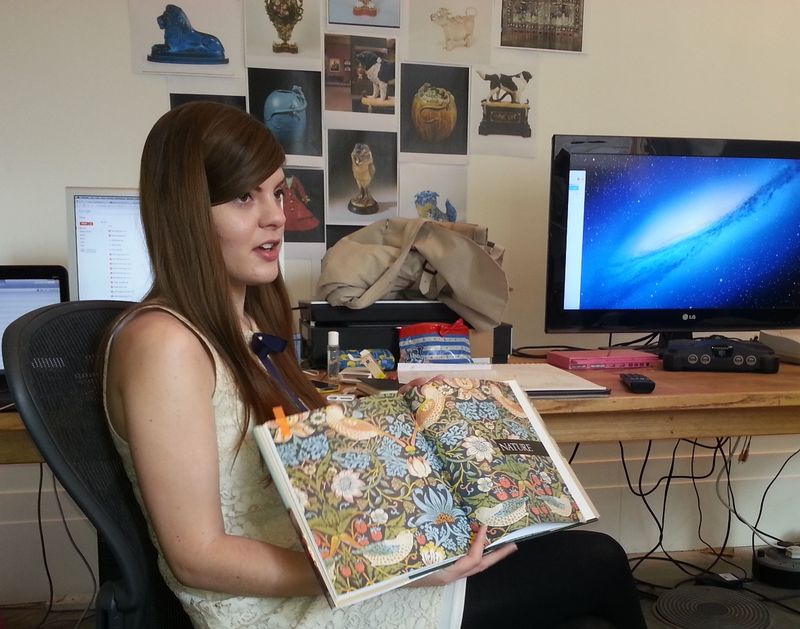 Her open studio sessions are listed here, but be quick, as her residency finishes in March. Then Sophia will return to Abertay University in Dundee to work with a team of developers to create a fully playable game, which will be available on Apple and Android mobile devices later this year. I can't wait to play it!
Making the most of my time in the museum, I had tea in the delightful green room, designed by William Morris with the assistance of Philip Webb and Edward Burne Jones for the V&A. I also ventured into the British Galleries to see the Strawberry Thief fabric and other William Morris designs on display. Next to several of his wallpaper designs is a screen showing a fascinating video, which demonstrates how the wallpapers are still made; by hand, block printing each colour of the pattern in many separate layers. I thought that this is an excellent inclusion of multimedia in a gallery space, to enhance interpretation of the objects on display.
Back at the British Library, I'm very pleased that we are also working to promote the talents of young videogame designers, with the return of the successful Off the Map competition, in partnership with games company Crytek and GameCity Festival. If you haven't yet watched the YouTube clip of last year's winning entry by students from De Montfort University in Leicester, then I urge you to check it out now:
 This year's competition has a Gothic theme, to tie-in with the Library's Terror and Wonder: The Gothic Imagination (3 October 2014 - 27 January 2015) exhibition. My curator colleagues in English and Drama, Maps and Sounds have selected a great range of items from the collections to inform and inspire this year's Off the Map participants, who can choose from three sub themes:
The competition is open to students in further and higher education, so if you are interested in taking part please visit the competition website: http://offthemap.gamecity.org/
We will also be hosting a "show & tell" event on the 2nd April, where Off the Map participants can look at the physical collection items and speak to the Library's curators about them. If you want to come along book now.
Stella Wisdom - Curator, Digital Research, miss_wisdom