07 July 2014
Europeana Sounds
The Europeana Sounds project was launched on 1 February 2014. This three-year project, co-funded by the European Commission, will give online access to a critical mass of audiovisual digital-objects by January 2017. Over 540,000 high quality sound recordings will be available via Europeana, from classical and folk music, to environmental sounds from the natural world as well as oral memories. The project, coordinated by the British Library, is a partnership among 24 national libraries, sound institutions, research centres, and universities from 12 European countries.
 The sounds selected for this project embrace the breadth of Europe's cultural heritage : classical music and contemporary performances with timeless and universal appeal ; traditional and folk music and storytelling ; sound effects, environmental sounds and noises from the natural world; languages, accents and dialects and oral recollections, all with a particular resonance in different regions. Together these collections reflect the diverse cultures, histories, languages and creativity of the peoples of Europe over the past 130 years.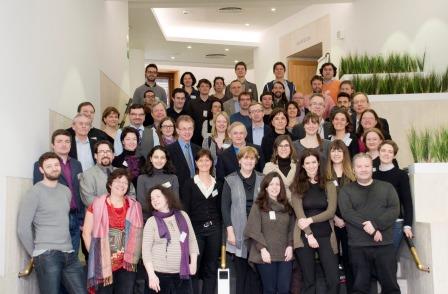 Europeana Sounds Kick Off Delegates. Photo by Elizabeth Hunter CC-BY-SA
Since our lively Kick-Off meeting in mid-February at the British Library Conference Centre, we've published a number of the first technical deliverables and milestones.  In April, our aggregation team issued the initial content selection policy, marking the first steps towards the project's ambitious aggregation targets. A revised aggregation infrastructure design was also released at the end of May. The metadata enrichment team circulated a survey to data providers, asking about the information needs that might be met through enrichment via crowdsourcing. A workshop on lowering barriers to access through tackling IP issues took place on 12 June in Copenhagen, addressing moral and ethical rights, out-of-commerce works, domain-constrained works and rights clearing policies. Our technical teams are focusing in on the user experience, a topic that was central to the discussions at a Co-Design Workshop held at the beginning of June to explore the current work on channels and interactivity.
 After much hard work by the dissemination team, our new project website launched on 2 June. Please visit www.europeanasounds.eu to find out more about us and make sure to share the link with your networks via Facebook, Twitter, LinkedIn, Yammer etc. The dissemination team is always pleased to welcome entertaining and engaging blog posts for the website, so please send us your suggestions!
Catherine Gater, Project Manager Europeana Sounds