20 August 2014
Interactive Fiction Writer-in-Residence for the Lines in the Ice Exhibition
From this week onwards, visitors to the Library may come face-to-chest with the institution's very own example of cryptozoology. An enormous specimen, hunched (though only when passing through doorways) and pallid from too much time spent in the Rare Books Reading Room, this survival of an earlier era can most often be found in the foyer lapping at the water fountain, reading quietly on his iPad, or roaming the canteen, hunting for delicious vegetarian prey.
The British Library is very pleased to welcome the Library's first Interactive Fiction Writer-in-Residence: Rob Sherman is a writer and games designer whose first digital project, the enormous and sprawling browser-based storygame The Black Crown Project, was published by Random House and challenged digital expectations in the publishing industry. Another notable project is his recent Twine game for Shelter about the housing crisis; called The Spare Set .
Rob has successfully acquired CreativeWorks London funding from their entrepreneur-in-residence scheme; to be the attached digital writer for the Library's upcoming exhibition, Lines In The Ice, which will display documents, maps and paraphernalia relating to arctic exploration expeditions, including John Franklin's ill-fated voyage to find the Northwest Passage in 1845. The ensuing tales of cannibalism, exposure and desperate contact with the local Inuit are sure to suit Rob's nightmarish yet delicate prose, once compared to 'knitting intestines' by a staunch admirer.
As well as being glimpsed in the corner of your eye as you walk around the Library, Rob will be researching the collections and producing original and unique digital and physical works to accompany the exhibition. While the details are still being finalised, rest assured that you will not need to visit the Library physically to experience Rob's work; everything will be released online, and any physical works will be digitised. He will also be documenting his progress via a research blog, and hosting events, where he will be sharing his work and documenting his journey into the farthest reaches of our collections.
However, he would like to point out that he is not as scary and legendary as all that, and if you spot him, he will happily stop for a chat.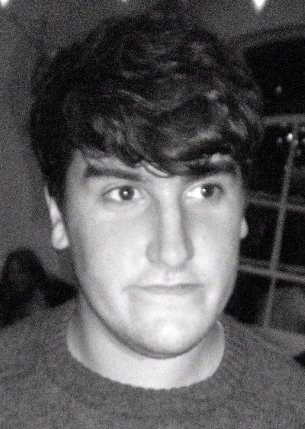 Rob Sherman, Interactive Fiction Writer-in-Residence for the Lines in the Ice Exhibition