16 October 2014
Curious Roads to Cross: British Library, Burning Man and the art of David Normal
California-based artist, David Normal will be talking about how he used images from  part of the British Library Flickr commons, one million images release as inspiration for artwork he created for the Burning Man Festival tomorrow Friday 17 October, between 1500 - 1600, at the British Library, Chaucer Suite, Conference Centre, London (places are very limited if you are interested in attending, see below for booking information).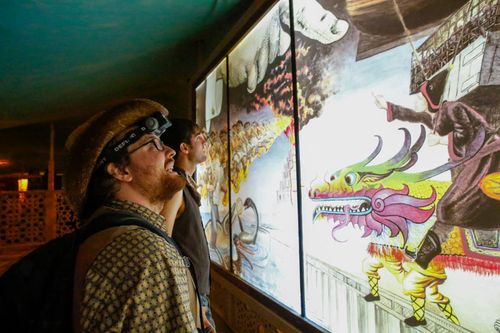 Crossroads of Curiosity at Burning Man, Nevada, 25 August to 1 September 2014
With a special interest in 19th century illustration, David created the 'Crossroads of Curiosity', which was on display from 25 August – 1 September 2014 at the festival in Nevada.
David recently blogged about his work on the British Library's Digital Scholarship blog,
David will bring large prints of his work and talk about each painting and focus on specific details of the work. He will also explain the production process of the work right through to the de-installation of it at Burning Man.
Booking information
Don't miss out on this fantastic opportunity to see how the British Library's digital content is being used to inspire artists. If you are interested in attending, please email [email protected] with the subject 'David Normal: BL and Burning Man' no later than Friday 17 October, 1100, 2014.