15 December 2014
British Library Labs Symposium 2014 – Keynote
Posted by Mahendra Mahey, Manager of British Library Labs
The second annual British Library Labs Symposium on Monday 3rd November, 2014, opened with Professor Tim Hitchcock giving a keynote speech focusing on 'Big and small data in the humanities'.
 
Tim Hitchcock, Professor of Digital History at the University of Sussex, giving a keynote at the British Library Labs Symposium 2014
Please note that full subtitles are available on YouTube and the transcript for the Tim's talk is available here.
Tim began with a quick reflection on the British Library Labs project:
In my experience Labs is unique. With a budget the size of a tuppenny bit, the BL, through the Labs, is both intervening in a space few others have had the confidence to inhabit; and as importantly, gently interrogating the role of a 'library' – in this case THE library – in a changing world of information and discovery.

By reaching out to both humanist scholars in need of technical support and expertise, and as importantly, developers keen to pursue an idea with an academic or humanist twist, the Lab is working in a space that neither the academy and higher education, nor the private sector are particularly good at. The Lab creates a space in which the intellectual capital of the Library, is made available to its users, in an entirely new way.

There are any number of research council initiatives, European funding calls, and twitchy private sector start-ups out there, ragging at the edge of established practise. We are advised to seek 'disruption', and to pursue the shiny. But it is important to remember that the institutions we have inherited – libraries and museums in particular - were created in service of a deeper purpose. It is not simply that we value them because they are ancient and august. Instead, we value them as a means of preserving memory, and acknowledging worth. And as importantly, we value them as part of a complex ecology of knowledge discovery, dissemination, and reflexion. So while disruption and the shiny, are all good; it remains important that libraries, continue to serve the fundamental purposes for which they were created. And the Lab, seems to me to answer this need.

In other words, as much as being a space in which new projects and approaches can be bench-tested; the Lab is important as a fragment of an ongoing negotiation about the role of the institutions of memory and knowing. And getting that role right, is imperative.

By acknowledging the existence of the library's own great technical expertise; and essentially inviting people from across the piste to partner with it, the Lab is effectively re-thinking what it is to be a 'reference' librarian, an information professional, an engineer, servicing a technology of knowing.

Over the course of the rest of the day, wild and fun initiatives will roll before your eyes, but as they do, I think it is worthwhile keeping in mind that larger project and aspiration, of turning this inherited institution, the British Library, in to something that can continue to deliver on the unchanging principals it was created to serve.
Tim the went on to talk about how while 'big data' has grabbed the headlines in recent years, the creation of new digital tools has also changed how we undertake forms of 'close reading'. This talk explored how 'big data' and 'close reading' can be more effectively integrated into a single research strategy that acknowledges the importance of seeing inherited culture both in detail - close up; and in context - at scale. It also considered these methodological developments in light of the continuing importance of more traditional humanist theory.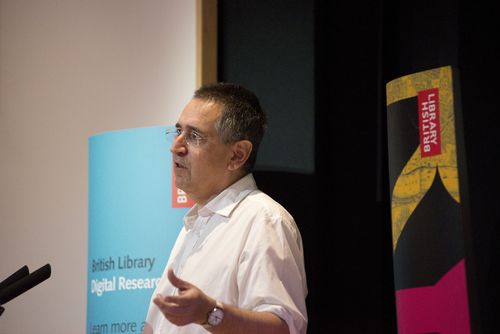 Tim Hitchcock answering a question from the audience at the Labs' Symposium.
@bl_labs #bl_labs #britishlibrary #bldigital @timhitchcock