16 December 2014
British Library Labs Symposium 2014 – The Winners
Posted by Mahendra Mahey, Manager of British Library Labs
After Tim Hitchcock's keynote, which opened the British Library Labs' second annual symposium, Roly Keating, the Library's Chief Executive, presented awards to the 2014 Labs competition winners Bob Nicholson and Desmond Schmidt.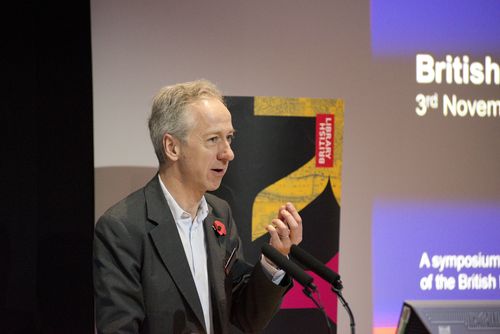 Roly Keating, Chief Executive of the British Library
See Roly Keating's brief speech here:
 
Roly Keating's brief speech at the Labs Symposium.
Roly thanked the members of the British Library Labs team, advisory and project boards, workplacement students and volunteers. He then formally congratulated the winners of the 2014 Labs competition; Desmond Schmidt and Anna Gerber's 'TILT' and Bob Nicholson's Victorian Meme Machine.
Roly Keating presenting Bob Nicholson with his prize.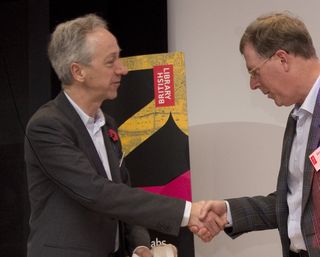 Roly Keating presenting Desmond Schmidt with his prize.

Desmond and Bob then gave presentations on their work.
Desmond presented TILT, a tool he and his colleague Anna Gerber have been developing with cooperation with the Labs. Historical printed and manuscript material is often difficult to read and understand. Once digitised, researchers create detailed transcriptions, but making links between page images and the transcribed text is difficult and time-consuming. TILT is a tool that uses semi-automated techniques to build these links, to verify them, and to capture information that goes beyond text to include differences in lineation, type-size and line-spacing.

Desmond Schmidt, Research Scientist, University of Queensland, talking about 'TILT' 
Read more about the project.
Bob presented the work he has been doing with Labs on the Victorian Meme Machine. What would it take to make a Victorian joke funny again? While the great works of Victorian art and literature have been preserved and celebrated by successive generations, even the period's most popular jokes have now been lost or forgotten. Fortunately, thousands of these endangered jests have been preserved within the British Library's digital collections. This project has begun to find these forgotten jokes and bring them back to life.

Bob Nicholson, Lecturer, Edge Hill University talking about the Victorian Meme Machine
Read more about the project.
@bl_labs #bl_labs #britishlibrary