Curious Roads to Cross - 21st Century Curatorship Talk by David Normal
Posted by Mahendra Mahey, Manager of British Library Labs
On the 17th of October 2014, artist David Normal gave a presentation to a group of British Library staff, as a part of the 21st Century Curatorship series about his work 'Crossroads of Curiosity'. David has previously blogged about his work here.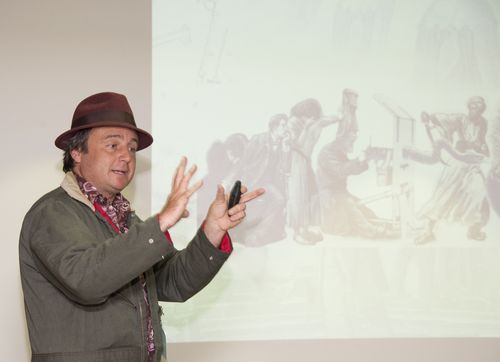 David Normal giving his talk to British Library staff.
He talked about 4 pieces of collage art he created for the 2014 Burning Man Festival, entitled the 'Crossroads of Curiosity' which were based on images from the British Library 1 Million images release. As part of this talk, David was interviewed and was able to give a brief summary of how the work came about (see the 5 minute video below):
 
A 5 minute interview with David Normal about his work 'Crossroads of Curiosity'
The lecture David gave to staff covered his background as an artist and his various interests and influences which included; collage, computer graphics and use of illustration in his work especially from the 1940s and the 19th Century. He then talked about how his four paintings entitled 'Crossroads of Curiosity' came about and how he used images from the British Library's Flickr Commons 1 million release to make them. David then explained how these paintings (each created originally at a size of 3 foot by 8 foot (0.9m by 2.4m)) were made into an 'epic suite' of 4 illuminated light boxes at a size of 8 feet by 20 feet (2.4m by 6.1m) for the Burning Man Festival that took place between 25th of August and 1 September, in Nevada, USA this year.
The full lecture (just under 20 minutes) can be viewed below for those that missed it:
 
David Normal's lecture given to staff at the British Library about his work.
David then spent just over 20 minutes (about 5 minutes for each painting) giving his interpretation of what the paintings actually meant to him, see the video below:
 
An interpretation of the meaning of each of the four paintings, collectively called, 'Crossroads of Curiosity', created for Burning Man
For those of you that are interested, David will be speaking at the Curious Images event on 18 December, 2014 at the British Library.
@bl_labs #bl_labs #britishlibrary #BLDigital