Software Sustainability Institute Fellowship
Researchers today are reliant on software and the Software Sustainability Institute (SSI) is a national facility for cultivating world-class research through software. The work of the SSI is focussed around four themes fundamental to doing research in the digital age, these are:
enabling access to Skills and Training that creates a capable research software community and teaches them methods to advance their research
advocating for systems of credit that Recognise and Reward good software development and reuse practice
championing the varied job roles and Career Paths associated with research software
promoting the fundamental place of software in enabling Reproducible Research that supports confidence in the research process and its results
A major activity the SSI undertakes is a fellowship programme that funds researchers in exchange for their expertise and advice. I am delighted to have been selected as a 2015 Fellow.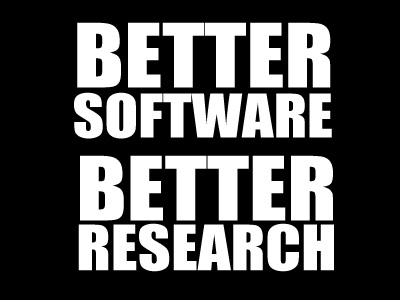 With the British Library increasingly a place full of data as much as physical stuff, and with the announcement yesterday that the British Library has been selected by the Engineering and Physical Sciences Research Council (EPSRC) as the location for the headquarters of the Alan Turing Institute, this award of a SSI Fellowship could not be more timely. And with these developments in mind, I plan to use the Fellowship to deepen my knowledge of and engagement with the the nascent systems of credit giving and evaluation for software produced during humanities research and (taking Software Carpentry as a model) to broaden the remit, lessons learned, and capacity in the GLAM sector to reproduce in their own institutions the research software specific elements of our internal Digital Scholarship Training Programme. But above all, I look forward to working with the other fellows, to sharing experiences, and to advocating for a scholarly landscape - agnostic of subject domains - that recognises software as, for, and by research.
James Baker
Curator, Digital Research