09 March 2015
Jisc Digital Festival 2015
Today and tomorrow I'm at this year's Jisc Digital Festival; networking with other digital folks and hearing about new technologies, which are relevant to learning and research.
This morning's opening keynote by Simon Nelson, CEO of FutureLearn, got proceedings off to a great start. Talking about MOOCs; he explained how they widen participation in education and are of increasing importance as a recruitment method for universities. He also mentioned how universities can collaborate with other types of partners, such as cultural heritage institutions, to create richer, contextualised courses; and he gave the upcoming Propaganda and Ideology in Everyday Life MOOC as an example of this, as it has been created by the University of Nottingham working with curators at the British Library.  
The British Library also has a stall in the exhibition, with two of my lovely colleagues from Boston Spa telling people about EThOS, Document Delivery and Imaging Services (BLDSS). They also have postcards, pens, stress toys and even lip balms to give out. Though apparently the most popular item that punters are picking up from the stall is a printed copy of Living Knowledge: The British Library 2015 – 2023, which I found ironic, as we are at a digifest and the document is free online!
 I also picked up some freebies from the other exhibition stalls, including an amazing Sex Pistols inspired t-shirt from figshare, which I can't wait to wear.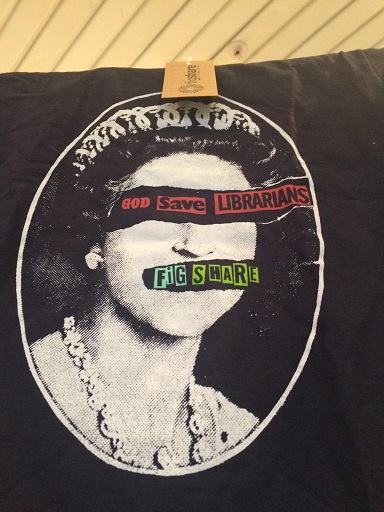 Figshare t-shirt
I was also grateful for the #digifest travel mugs, as hotel mugs are never large enough for a proper cup of tea in my opinion, which reminds me of one of the quotes on the walls at work that I walk past everyday "You can never get a cup of tea large enough or a book long enough to suit me" quite right C.S. Lewis, I agree with you completely.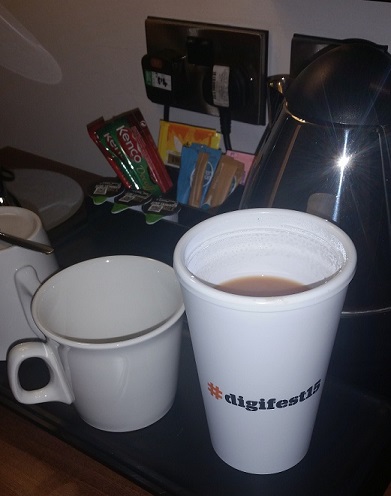 Jisc #digifest travel mug, next to my hotel mug
For those of you not currently here in Birmingham, there is live coverage online of keynotes and selected sessions. There is also an active twitterstream at #digifest15; and if you are here in person, please do say hello, I'll be wearing my new figshare t-shirt :-)
Stella Wisdom
Curator, Digital Research