18 December 2015
BL Labs Awards (2015): Entrepreneurial category Award winning project
The winners of the British Library Labs Awards were announced at the British Library Labs Symposium, held on Monday 2nd November 2015, at the British Library. The Awards were launched in 2015 by the British Library Labs team in order to formally recognise outstanding and innovative work that has been created using the British Library's digital collections and content.
This year, the Awards honoured projects within three key categories: Research, Creative/Artistic and Entrepreneurship. The winner of the Entrepreneurial Award (2015) was "Redesigning Alice: Etsy and the British Library joint project" by Dina Malkova.
The project has produced a range of bow ties and other gift products inspired by the incredible illustrations of Alice's Adventures Under Ground by Lewis Carroll.
Below, Dina's guest blog discusses the award-winning project for us: 
I have been inspired by the original Alice's Adventures Under Ground with fantastic illustrations by Lewis Carroll, and the thought of creating a range of bow ties and other gift products to celebrate the 150th anniversary of the publication of Alice!
My challenge was to create a new collection of gift products by using the original hand drawn illustrations by Lewis Carroll. In order to do this I had to first study the original manuscript, which was exciting  and introduced me to the world of Alice and Lewis Carroll close up.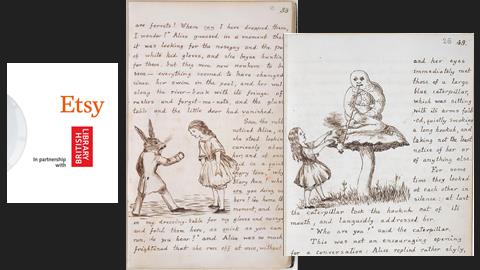 Lewis Carroll's manuscript illustrations inspired the Redesigning Alice collection 
I then investigated and analysed customers' buying patterns, preferences and tastes, in order to help me develop and design my products for popular tastes.  I also researched other Alice products and gifts online, to ensure my ideas were new and original. 
After these processes, I was able to decide upon a fragment of the original book illustration to be used as the  design on my range of bow ties, ties, cuff links and pocket squares.  I have created and developed the product range for the Lewes Bow Ties brand, which I have founded. The bow ties are limited editions and handmade from vintage fabrics. The bow ties are self-tied, adjustable in length and packaged individually in a vintage style gift box made of recycled paper.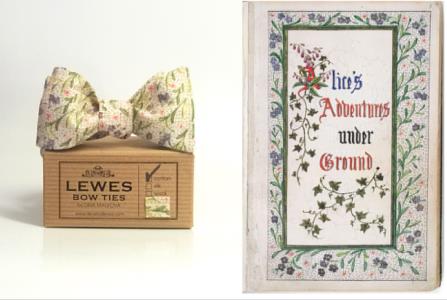 Dina's Redesigning Alice bow ties
The bow ties and cuff links are on sale in the British Library's Alice in Wonderland pop-up shop, open in the Entrance Hall from Monday 23rd November 2015 – Saturday 16th April 2016.
You can find Dina's range of  bow ties, in partnership with Etsy and the British Library, online:  https://www.etsy.com/shop/DinaMalkova