02 December 2015
Games, Literature, Libraries and Learning
I just wanted to say a rather belated, but massive thank you to everyone who came along to the British Library for  International Games Day at Your Library 2015 recently. It was excellent to see people having so much fun. Also, extra special kudos to my wonderful team of volunteers: Csilla from the London on Board group, Ross & Elsa from Gambling Lambs, GameCity, Fancy Crab Studios,  Matt, Sarah, Rob, Cheryl, Catherine, Ka-Ming, Ludi (our artist and our Alice on the day!), Ben and last but definitely not least our white rabbit Gary. We played a great variety of games with visitors, some of the games were associated with the world of Alice in Wonderland, such as Parade and several games had an animals theme, including Animal Upon Animal, Wildlife Safari and Cheryl's favourite Rhino Hero.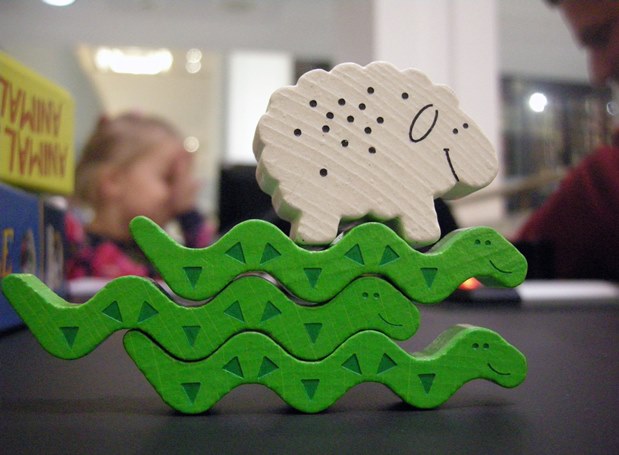 Animal Upon Animal; a wooden stacking game like Jenga, but much cuter!
Furthermore, if you are interested in videogames and and interactive literature, then you may wish to come along to a free evening event at the British Library tomorrow (book your ticket here). Jordan Erica Webber, a freelance journalist specialising in games, is chairing the evening and we have a superb panel of speakers;
Jon Ingold, Creative Director at inkle, who made 80 Days, inspired by Jules Verne's classic adventure novel Around the World in Eighty Days, which was Time Magazine's Game of the Year in 2014.
Annabel Smyth, Community/PR Manager at 3 Turn Productions, who are creating Ever, Jane, an on-line role-playing game set in the virtual world of Regency England and the works of Jane Austen.
Professor Andrew Burn, Professor of English, Media & Drama, and Director of the DARE centre, UCL Institute of Education. Andrew leads the Playing Beowulf project, which is developing a game-authoring tool called MissionMaker that enables users to transform the Beowulf poem into digital games, interpreting the text into playable characters, landscapes and events.
Dr. Tomas Rawlings, Design & Production Director at Auroch Digital and its acclaimed news-gaming initiative GameTheNews.net. He blogs at agreatbecoming.com and will talk about JtR125; a playable documentary reflecting on 125 years since Jack The Ripper terrorised London.
Also, if you are interested in games in education, there is a one day conference on Monday 7 December in the British Library Conference Centre all about videogame creation as a method of learning in schools. The conference is called Ludic Literature and Literary Games and more details, including how to book a place, can be found here.
This conference is suitable for researchers and educators in literary studies, game studies, media studies, film studies, mediaeval studies; librarians, curators and archivists in the GLAM sector. Keynote speakers include: Professor Ian Bogost, Georgia Institute of Technology and Professor Andrew Prescott, Theme Fellow, AHRC Digital Transformations. This event marks the end of Playing Beowulf: Gaming the Library, a project conducted by UCL Education and English, in partnership with the British Library and University of Sydney, supported by the AHRC's Digital Transformations programme. Go here to find out more about the project.
Stella Wisdom, Curator, Digital Research