08 February 2016
Cambridge @BL_Labs Roadshow Mon 15 Feb (9.30am - 12.30pm) and (1.30pm - 4.30pm)
The @BL_Labs roadshow moves onto Cambridge and we still have a few places available for our FREE and open to all afternoon showcase event on Monday 15 February between 1.30pm - 4.30pm (booking essential). The event is kindly hosted by the Digital Humanities Network of researchers at the University Cambridge who are interested in how the use of digital tools is transforming scholarship in the humanities and social sciences.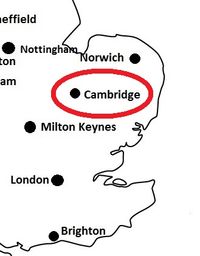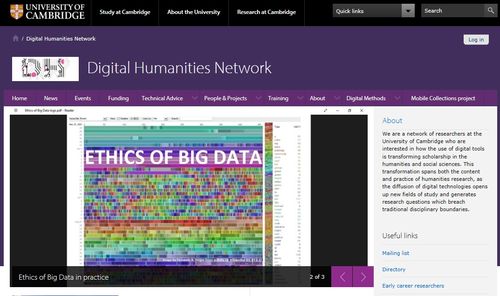 @BL_Labs Roadshow in Cambridge - Mon 15 Feb (0930 - 1230 and 1330 - 1630), hosted by the Digital Humanities Network at the University of Cambridge.
Building a search engine that works for you (9.30am - 12.30pm).
Building a search engine that works for you, Cambridge - Mon 15 Feb (9.30am - 12.30pm).
Led by British Library Labs Technical Lead Ben O'Steen, a special workshop will be held in the morning (9.30am - 12.30pm) which gets under the 'hood' of search engines. Attendees will load some texts from the largely 19th Century British Library digitised Book collection into a search engine to explore the problems, opportunities and assumptions made when creating such a service. The session will be using Elasticsearch, Python, Git and Notepad++.
The aim is to step people through the challenges and compromises required to have something as simple as a Google search service and to explore a few ways to tailor it to specific needs. It involves dealing with XML and the quality of real world data and use python code to put data into and query Elasticsearch. This 3-hour workshop will give participants an understanding of how search engines work from the inside. No technical knowledge is required as a prerequisite but spaces are strictly limited and the focus of this workshop will be on practical application of the ideas. University of Cambridge researchers and students have priority for bookings however you can now book here. However, please contact Anne Alexander to see if there have been any last minute cancelations, especially if you are from outside the University and would like to attend.
Labs and Digital Research Showcase with an 'Ideas Lab' (1.30pm-4.30pm).
The showcase in the afternoon (1.30pm-4.30pm) will provide participants an opportunity to:
Understand what Digital Research activity is being carried out at the British Library.
Discover the digital collections the British Library has, understand some of the challenges of using them and even take some away with you.
Learn how researchers found and revived forgotten Victorian jokes and Political meetings from our digital archives.
Understand how special games and computer code have been developed to help tag un-described images and make new art.
Find out about a tool that links digitised handwritten manuscripts to transcribed texts and one that creates statistically representative samples from the British Library's book collections.
Consider how the intuitions of a DJ could be used to mix and perform the Library's digital collections.
Talk to Library staff about how you might use some of the Library's digital content innovatively.
Get advice, pick up tips and feedback on your ideas and projects for the 2016 BL Labs Competition (deadline 11 April) and Awards (deadline 5 September).
For more information about the afternoon session, a detailed programme and to book your place, visit the Labs & Digital Research Showcase with an 'Ideas Lab' event page.
Posted by Mahendra Mahey, Manager of BL Labs.
The BL Labs project is funded by the Andrew W. Mellon Foundation.