04 July 2016
Two Centuries of Indian Print: Enhancing Scholarly Research
Tom Derrick will be working as a Digital Curator within the Digital Research Team at the British Library on a project titled 'Two Centuries of Indian Print'. This project will digitise rare Bengali printed books and provide opportunities for innovative research at the intersection of Digital Humanities and South Asian studies. He Tweets @tommyid83, and can also be contacted by email at Tom.Derrick@bl.uk.
Only a week into my new role I can already see the benefits of the work that the digital research team delivers. I attended a fascinating presentation of the two latest BL Lab award-winning projects. I was impressed to see how young researchers are collaborating with the digital research team here to find innovative methods to open up new avenues for their own research as well as for other academics and the general public.      
I have joined the British Library from a digital publisher of historical primary sources and am excited to use my experience engaging with researchers to facilitate academic interrogation of the Two Centuries of Indian Print project data. This two-year pilot will make, freely available online, digitised Bengali books drawn from the extensive South Asian printed book collection at the British Library along with a selection from SOAS. The books digitised as part of the pilot will span 1801-1867, the bulk of which are religious tracts. It is part of a wider initiative by the British Library to catalogue and make available printed Indian books in 22 South Asian languages, covering 1714-1914.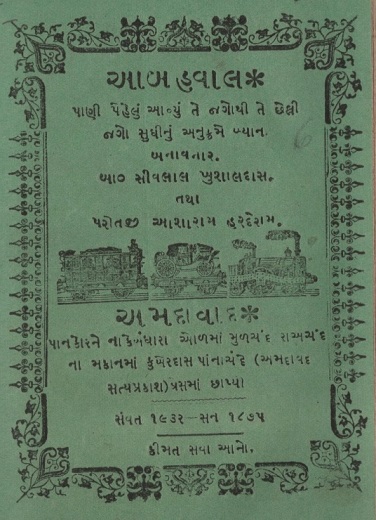 Ab haval, a poetical account in Gujarati on the disastrous floods at Ahmadabad, 1875
Over the course of the next two years, I'll be engaging with researchers, particularly in the fields of South Asian studies and Digital Humanities, to explore the opportunities and challenges involved in applying digital research methods and tools to this newly digitised collection. A key area I'll be looking at is how to ensure the metadata and digitised text produced will cater to the needs and interests of an academic community interested in performing large-scale data analysis. This will involve finding an optimal solution to making the Bengali script machine readable so the full text can be searched and 'mined' by researchers. We'll also be developing a series of workshops to provide academics and professionals from Indian institutions, particularly the GLAM (Galleries, Libraries, Archives and Museums) sector, to gain new skills to support digital research.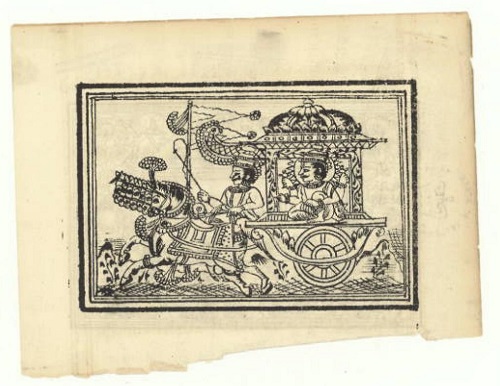 Illustration from an early printed edition of the Adityahṛdayam, a devotional hymn in Sanskrit to the Sun God, seen here on his chariot drawn by seven horses, Bombay, 1862
It is a privilege to be here working for the British Library, an institution I have always admired for its mission and core values and I am proud to support that continued effort through stimulating an international community of researchers to access what will prove to be a fascinating collection. We'll be posting further blogs describing the progress of the project, so watch this space! If you have any questions about the project or ideas relating to innovative use of the collection, please do email me at Tom.Derrick@bl.uk