23 September 2011
Beowulf in Hungarian ... and French ... and Telugu ...
Ever wondered what Beowulf sounds like in Dutch, Greek or Russian, or in Telugu, a Dravidian language spoken in parts of southern India? Here at the British Library we've had some fun creating the recordings found here, representing nine different modern languages.
Beowulf is perhaps the most famous Old English literary survival. An epic poem spanning more than 3,000 lines, Beowulf recounts the exploits of its eponymous hero and his combats with a monster named Grendel, with Grendel's revenge-seeking mother, and with a dragon guarding a hoard of treasure. Experts are divided as to when the poem was composed; but it is found in just a single medieval manuscript, most likely made in the early decades of the 11th century, and now housed at the British Library (Cotton MS. Vitellius A. XV).
We are indeed extremely fortunate that this manuscript has been preserved. It was damaged by fire in 1731, when the Cotton collection was housed at the aptly-named Ashburnham House in London; the Beowulf-manuscript can only be handled with the greatest care.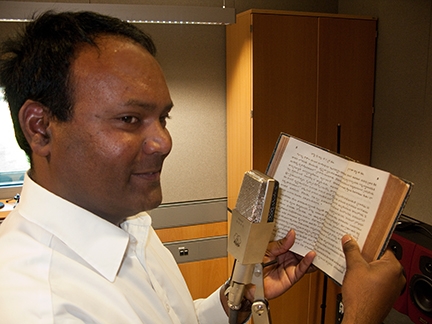 Photo of Mr Madhava Turumella, reading the Telugu translation of Beowulf (courtesy of Nigel Bewley, The British Library).
We are extremely grateful to all our readers (Marja Kingma, Karen Eeckman, Juan Garces, Dimitrios Skrekas, Ildiko Wollner, Laura Nuvoloni, Yasuyo Ohtsuka, Irina Lester and Madhava Turumella), and to Nigel Bewley of the British Library's Sound and Vision for making the recordings.