06 September 2011
A Stunning Tudor Binding: Henry VII's Quadripartite Indenture
Quadripartite Indenture (the 'Harley Indenture')
London, 1504
British Library, Harley 1498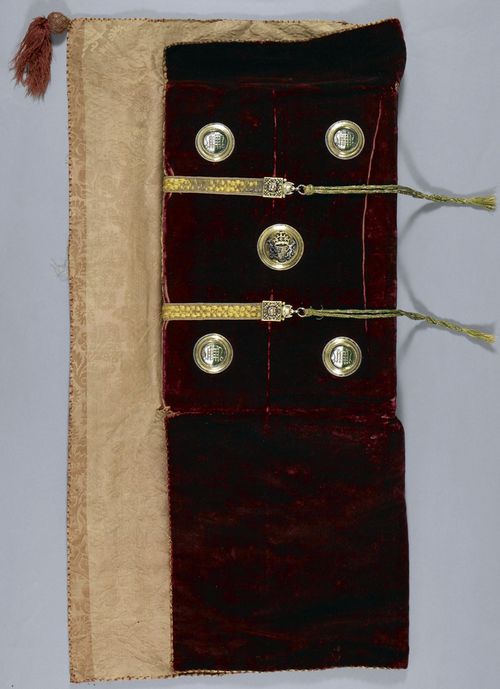 Back binding of the indenture, Harley 1498
Very few medieval or Tudor bindings survive; this is a particularly impressive example.  It is a 'chemise' binding (or cloth cover) in red velvet lined with damask that may have been imported from Italy.  This chemise wrapper covers four indentures, or series of agreements, between Henry VII and the monks of Westminster Abbey dated 1504.  Two copies of the indenture were made and, remarkably, both survive with their original bindings—the current volume and the other now in The National Archives (E 33/1).  Attached to the covers of both are a series of bosses in silver gilt and enamel, decorated with the King's emblems.  Five original wax seals with impressions of the King also survive; these are affixed to the documents and authenticate the covenants contained within them.  The upper edges of the pages are cut in curved lines, consistent with more typical indentures on parchment sheets that were cut apart so that they could be fit back together upon redemption or to verify the authenticity of claimed contractual obligations.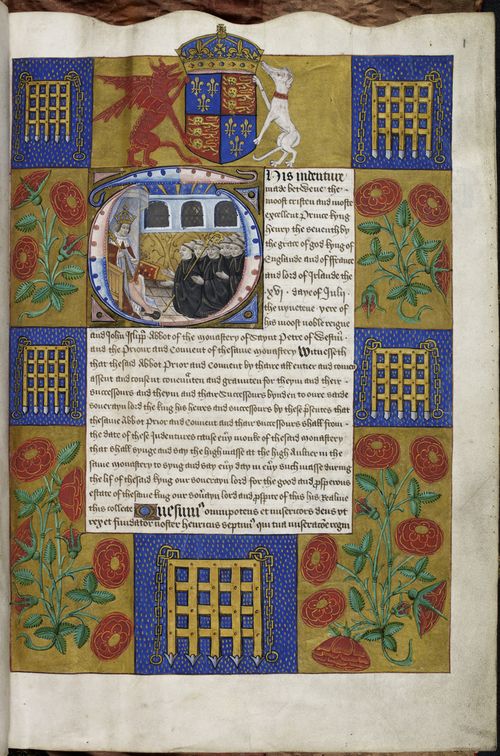 Miniature of Henry VII presenting the indenture to John Islip, Abbot of Westminster Abbey, Harley 1498, f. 1
The grandeur of these indentures is demonstrated as well by the fact that each begins with an illustration and a painted border.  Here the border is decorated with the Beaufort portcullises of Henry's mother, Margaret Beaufort, and his arms, held by his supporters, a dragon and a white dog. In the initial Henry hands the indenture to John Islip (b. 1464, d. 1532), the abbot of Westminster, who kneels before him.
- Royal project team