26 October 2011
Alexander versus the World
Many classical heroes of both history and literature enjoyed colourful afterlives in the Middle Ages. In popular medieval accounts, they were positioned as ancestral figures, heroes of romance and compelling role models for kings and princes. Our exhibition, Royal Manuscripts: The Genius of Illumination, includes such enduring figures as Julius Caesar, Hector, Hercules and Alexander the Great.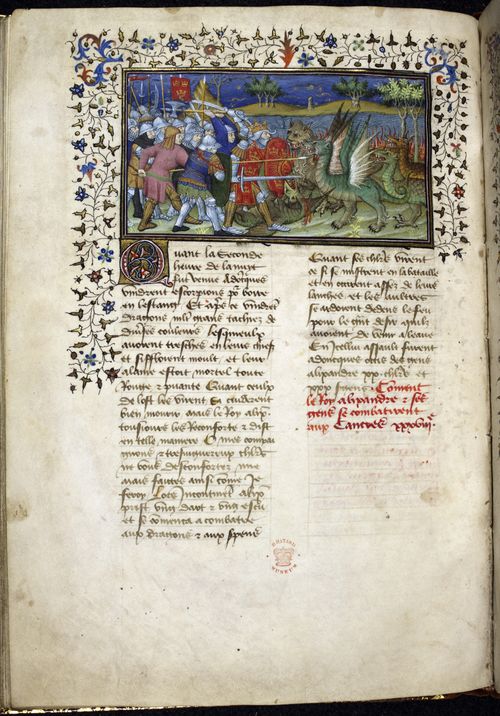 Miniature of Alexander the Great in battle with dragons, Royal 20 B. xx, f. 49v.
We know Alexander the Great (d. 323 BC) as the conqueror of much of the ancient world. By the time of his early death (he died of fever at the age of 32), he had won territories from Egypt to India and made a lasting name for himself as a brilliant military commander and strategist. Accounts of his life and exploits are known from an early period, in various versions and in a number of different languages. One of the most popular of these was the tenth-century Historia de Preliis Alexandri Magni (The History of the Battles of Alexander the Great), which, in turn, was the basis for an anonymous French version, the Vraye ystoire du bon roy Alixandre (The True History of the Good King Alexander).
Medieval accounts of Alexander's adventures and exploits lend themselves well to illustration. This Royal collection copy of the French Vraye ystoire (Royal 20 B. xx) is particularly splendid, with eighty-six illustrations of Alexander's adventures.  It was made in Paris in c. 1420-25. At that time, Paris was English territory, following Henry V's military victories in France and the Treaty of Troyes in 1420, and it was also the unrivalled artistic centre of Europe. The artist of most of the paintings to be found throughout the volume is named after this manuscript – as the Master of the Royal Alexander.  His skill is evident in the image above, of Alexander, identifiable by his crown, fighting dragons, and below, in the miniature of Alexander, in a cage, being carried aloft by griffins.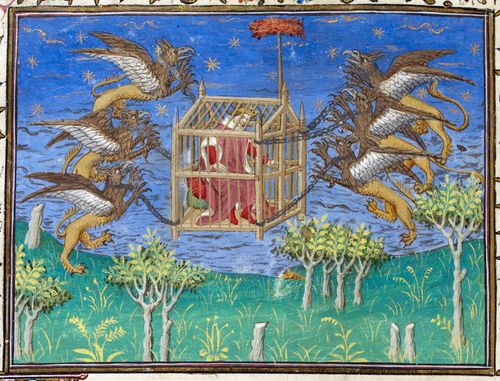 Detail of a miniature of Alexander the Great, in a cage, being carried aloft by griffins, Royal 20 B. xx, f. 76v.
As a great general, Alexander was a fitting role model for young princes and kings, particularly during the troubled period of the Hundred Years War, when a ruler's military prowess was so important.  It is unclear whether this book was intended for a royal owner from the start, although the quantity and sophistication of its illustrations are certainly grand enough. Whoever its original owner might have been, by the mid-sixteenth century it had indeed found a royal home: the added inscription 'HR' (Henricus Rex) at the beginning of the book indicates that the volume eventually found its way into the library of Henry VIII. 
- Royal project team