28 October 2011
The British Library's Digitised Manuscripts site was launched in September 2010, and currently attracts more than 24,000 page views each month. Our first upload comprised 284 Greek manuscripts, and we have periodically added more content, including the Lindisfarne Gospels, the Old English Hexateuch and autograph manuscripts of William Blake and JS Bach.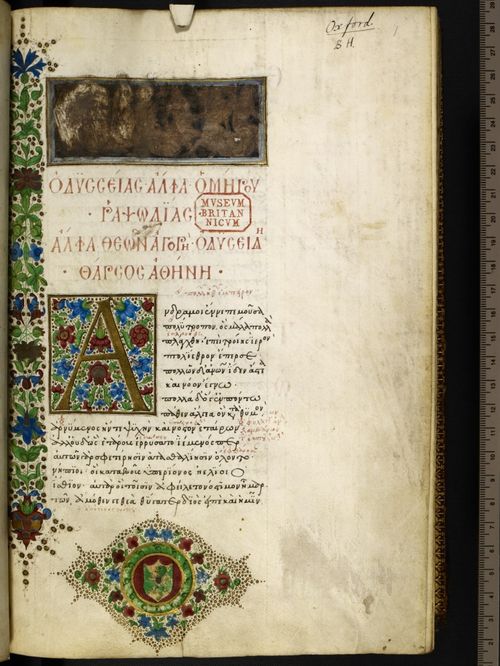 Homer, Odyssey, 15th century: London, British Library, MS Harley 6325, f 1r
Another 74 Greek manuscripts have now been added to this list, containing approximately 25,000 images. The British Library is privileged to house such a significant collection of manuscripts written in the Greek language, ranging in date from the 3rd century B.C. to the present, and constituting arguably the largest and most important resource outside Greece for the study of Hellenic culture.
Each manuscript featured in Digitised Manuscripts contains full digital coverage, and a description of the item's contents, date and origin. The site benefits from the deep zoom technology that underpins the viewer, allowing users to zoom in on images at great speed and with very detailed results. We recommend that you use the Browse facility to see a list of all manuscripts found on the site.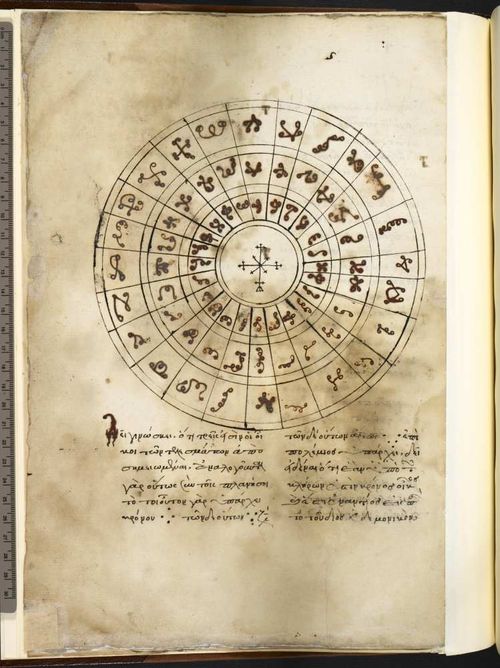 A collection of divinations and magic, 15th century: London, British Library, MS Harley 5596, f 3v
The digitisation of our Greek manuscripts has been generously funded by the Stavros Niarchos Foundation. The most recent upload features items ranging in date from the 11th to the 18th century, and includes a 14th-century Psalter, works of St Basil of Caesarea copied in the 14th century, a 15th-century copy of Homer's Odyssey, a collection of divinations and writings on magic, and a Greek-Latin dictionary copied in about 1420.
Here is a comprehensive listing of all the Greek manuscripts recently added to the British Library's Digitised Manuscripts.
| | |
| --- | --- |
| | Copies of Greek and Latin texts with notes by Toussaint Berchet (d. 1607), after 1590 |
| | Homer, Iliad, 15th century |
| | Dionysius Periegetes, Orbis descriptio, 15th century |
| | Cassianus Bassus, Geoponica, 14th century |
| | Suda, 15th century |
| | In Sacra Biblia Graeca ex versione LXX, 17th century |
| | Selections from Claudius Aelian, De animalium natura libri xvii, 17th century |
| | Collection of notes and extracts, 17th century |
| | Lycophron, Alexandra, 17th century |
| | Psalter, 14th century |
| | Works of Agapetus diaconus and Basil I 'the Macedonian', 15th century |
| | Life of Hartmann Beyer (1516-1577), by Philipp Reinhart, ?1580 |
| | Nomocanon of Manuel Malaxos, 1675 |
| | Gerasimus, Patriarch of Alexandria, On Communion, etc., 1714 |
| | Sindbad (Syntipas) the philosopher, Tale of the king, his son, and the 7 sages, 1667 |
| | Euchologion, with readings from the Epistles and Gospels, 13th-15th century |
| | Epiphanius of Salamis, De duodecim gemmis, 16th century |
| | Psalms and Odes etc., 16th century |
| | Symeon, Archbishop of Thessalonica, 17th century |
| | Euthymius Zigabenus, Ps.-Nonnus, Nicholas of Andida etc., 1281 |
| | Works of St Basil of Caesarea etc., 14th century |
| | Works of Dionysius Periegetes and Eustathius of Thessalonica, 15th century |
| | Menaion, 14th century |
| | New Testament, 13th century |
| | Eusebius of Caesarea, Commentary on the Psalms, 16th century |
| | Photius, Bibliotheca, 16th century |
| | Works of Photius, Aristides, Philip of Side etc., 1555 |
| | Divinations, magic, etc., 15th century |
| | Aristotle, 15th century |
| | St John Chrysostom, Homiliae 1-55 in Acta Apostolorum, 12th century |
| | Metaphrastan Menologion for October, 11th century |
| | Hilarion Cigalas, Archbishop of Cyprus, Synodikon in hexameters, 17th century |
| | Missal of Dominican use, 15th century |
| | Works of St Basil of Caesarea and Isocrates, 15th century |
| | Epistolographi Graeci, 14th century |
| | St John Damascenus, Barlaam and Josaphat, c.1590 |
| | Liturgica, 13th-17th century |
| | Medical writings of Aetius and Hippocrates, 16th century |
| | Symeon, Archbishop of Thessalonica, 16th century |
| | Collations of Polyainos, Strategemata, 17th century |
| | Themistius, 17th century |
| | Collection of fragments, 16th century |
| | Commentary on St Gregory, In laudem S. Basilii Magni, etc., 16th century |
| | Homer, Iliad, 15th century |
| | Canon Law, 16th century |
| | Dionysius the Ps.-Areopagite, 15th century |
| | Dioscorides, 15th century |
| | Nemesius and Proclus, 12th century |
| | Works of Manuel Bryennios, etc., 15th-16th century |
| | Plutarch, Vitae Parallelae, 14th century |
| | Ιoannes Chortasmenos, Metropolites of Selymbria, 15th century |
| | Scholia on Homer, Iliad I-XIX, 15th-16th century |
| | Theological miscellany, 16th century |
| | Synaxarion (Lives of Saints), 1362-63 |
| | Symeon, Archbishop of Thessalonica, 1601 |
| | Four Gospels, 15th century |
| | Four Gospels, 1478 |
| | Iamblichus, 16th century |
| | Formulary for letters to ecclesiastics, etc., 17th century |
| | Nomocanon, 1713 |
| | Aristophanes, Plutus, Nubes and Ranae, 15th century |
| | Mechanica, 17th century |
| | Collection of fragments, 16th century |
| | Demosthenes, De corona, 15th century |
| | Greek-Latin dictionary, circa 1420 |
| | Ecclesiastical History, 16th century |
| | Military treatises by Athenaeus, Biton and Leo VI, ?1563 |
| | Demosthenes, Aeschines, Synesius, 15th century |
| | Homer, Odyssey, 15th century |
| | Greek grammar in Latin, before 1715 |
| | Epigrams from the Palatine Anthology, before 1713 |
| | Aristotle, 15th century |
| | Geoponica, c. 1700-1703 |
| | Miscellany, 1588-1724 |