03 October 2011
Register now for the Royal Conference
In connection with our exhibition Royal Manuscripts: The Genius of Illumination, the British Library is hosting a two-day international conference (12-13 December 2011). Registration is now open.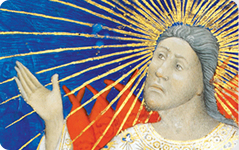 Eighteen speakers based in the United Kingdom, Belgium, France and the USA will be sharing their research on various aspects of the Royal collection, including readers, scribes, genealogy, style, law, legend and history. The conference promises to be a groundbreaking occasion, bringing to light some of the most outstanding examples of painting collected by the kings and queens of England.
Registration fees: £50; £45 AMARC members; £25 students
An optional delegate dinner on Monday, 12 December, is available for £30 (limited to 50 delegates).
Registration includes admission to the evening lectures by Michael Wood on 12 December and John Goodall on 13 December, for the first 120 delegates.
The research for this exhibition has been funded by a grant from the Arts and Humanities Research Council. Student bursaries for the conference are generously supported by AMARC.
The speakers at the Royal conference are: Jade Bailey (University of Bristol); Alixe Bovey (University of Kent); Lieve De Kesel (University of Ghent); Olivier de Laborderie (Paris); Ilya Dines (University of Cambridge); Erin K. Donovan (University of Illinois at Urbana-Champaign); Sonja Drimmer (Columbia University); Anthony Edwards (De Montfort University, Leicester); Matthew Fisher (University of California, Los Angeles); Joanna Fronska (The British Library); Anne D. Hedeman (University of Illinois); Dorothy Kim (Vassar College); Thomas Kren (The J. Paul Getty Museum, Los Angeles); Marigold Anne Norbye (University College, London); Maud Pérez-Simon (Université Sorbonne Nouvelle); Lucy Freeman Sandler (New York University); and Sara Torres (University of California, Los Angeles).