21 October 2011
The Luttrell Psalter on film
One of the (very many) joys of working at the British Library is being able to see the wonderful ways that people make use of our illuminated manuscripts. We recently came across a creative interpretation of one of the British Library's great treasures, the Luttrell Psalter, which can be seen on our Turning the Pages.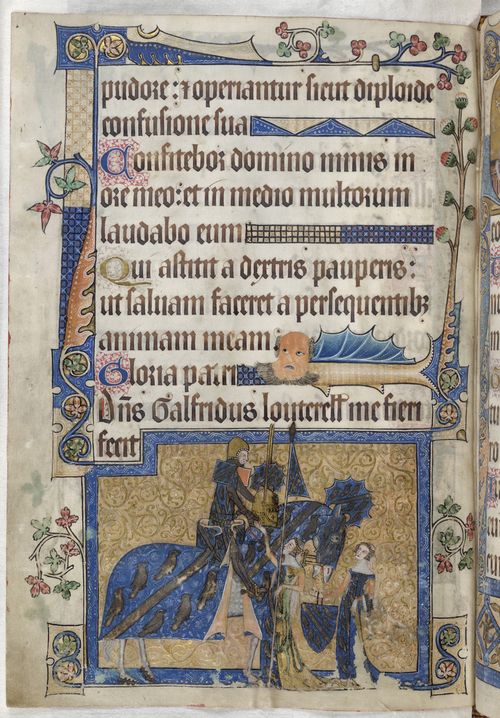 Miniature of Sir Geoffrey Luttrell with his wife and his daughter-in-law, c. 1320 - 1340, England (Lincolnshire), Additional MS 42130 (the Luttrell Psalter), f. 202v
The Luttrell Psalter was created c. 1320 - 1340 in Lincolnshire, and was named after its first owner and patron, the wealthy lord and landowner Sir Geoffrey Luttrell (1276-1345).  As well as the usual kinds of images for a Psalter of its time - paintings of King David (believed to have been the author of the Psalms), saints, and the life of Christ - the Luttrell Psalter contains some truly remarkable and detailed scenes of daily life.  Many of these are so-called bas-de-page (or 'bottom of the page') illuminations of people working and playing (and occasionally misbehaving), which offer us an insight into the rural life of medieval England.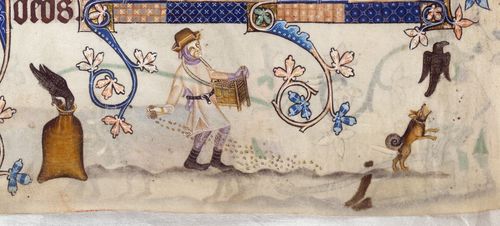 Details of bas-de-page scenes of a man sowing a field, and two men plowing, c. 1320 - 1340, England (Lincolnshire), Additional MS 42130 (the Luttrell Psalter), ff. 170v-171
Inspired by these scenes, a group called WAG Screen, based in the Psalter's native county of Lincolnshire, recently produced a short film - appropriately titled The Luttrell Psalter Film.  Shot over the course of a year to capture the changing seasons, and involving dozens of cast, crew, and researchers, the result is a beautiful and evocative treatment of the Luttrell Psalter's exceptional images.  You can watch it on WAG Screen's site or on YouTube.  More details about the project are available on their blog.  We are told that another film is in the works, based on the Psalter's images of Sir Geoffrey Luttrell and his privileged way of life. 
- Sarah J Biggs