23 November 2011
Harley Science Project
What is the best cure for toothache? How do we calculate the date of Easter? What does a phoenix look like?
To answer these and similar questions, the British Library has embarked on a project to digitise some of its most prestigious medieval and early modern scientific manuscripts. Generously funded by William and Judith Bollinger, the project will supply complete coverage of selected items from the Harley collection, augmented by revised catalogue records for the books in question.
Medieval and early modern manuscripts are vital for transmitting ancient scientific thought to the modern world. The texts they contain document the roots of modern scientific enquiry, based on observation, experimentation and the testing of hypotheses.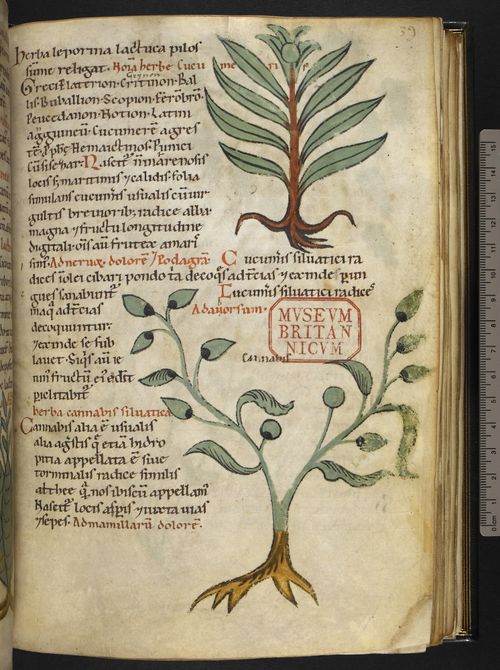 Drawings of a cucumber and a cannabis plant from an 11th- or 12th-century German herbal (Harley MS. 4986, f. 39r).
The Harley collection is particularly rich in such material. One of the foundation collections of the British Library, it contains more than 7,000 manuscripts and 14,000 charters, collected by Robert Harley, 1st Earl of Oxford and Mortimer (d. 1724), and his son Edward Harley (d. 1741). Edward Harley bequeathed the library to his widow, Henrietta, née Cavendish Holles (d. 1755), during her lifetime, and thereafter to their daughter, Margaret Cavendish Bentinck, Duchess of Portland (d. 1785). In 1753, the manuscripts were sold by the Countess and the Duchess to the British nation for £10,000 under the Act of Parliament that also established the British Museum.
The conservation, digitisation and cataloguing phases of this project are already underway. The manuscripts selected range in date from the 9th century to the 17th century, and are written in a variety of western European languages (including Latin, Old and Middle English, Dutch, French, German, Irish, Italian and Spanish). They embrace many aspects of early scientific knowledge, such as astronomy, the computus, mathematics, medicine and veterinary science.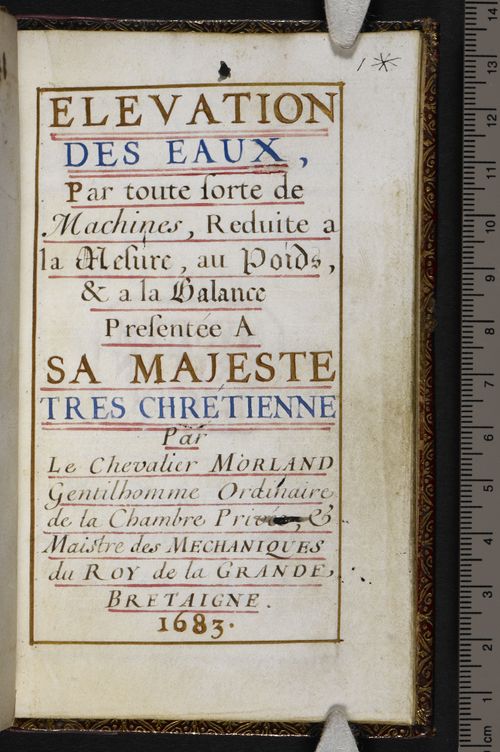 Title-page of Elevation des eaux by Sir Samuel Morland (d. 1695), 1683 (Harley MS. 5771, f. 1*r). Morland conducted several experiments into hydrostatics and hydraulics, for which he was created "Master of Mechanicks" by King Charles II of England (1660-1685). In 1682, Morland built a machine designed to transport water from the River Seine to the royal palace at Versailles. His treatise on the subject was published at Paris in 1685. Morland's other accomplishments include the production of an early calculating machine, and a "speaking trumpet" to improve communication between ships at sea.
It is anticipated that the Harley Science Project will provide full digital coverage and descriptions of some 150 manuscripts in the Harley collection. Not only do we aim to improve access to one of the British Library's world-class collections, but we also hope to facilitate research and teaching devoted to those manuscripts.
The images and descriptions will be made available in due course via our Digitised Manuscripts site. Regular updates will be provided here as the project progresses.
Julian Harrison (Curator of Early Modern Manuscripts)