04 November 2011
Perugino at the Alte Pinakothek
Perugino (d. 1523) was one of the greatest painters of the Italian Renaissance. His chief claim to fame is having been the master of Raphael; but Perugino (born Pietro de Christoforo Vannucci in Umbria around 1450) is renowned in his own right for having been one of the earliest Italian practitioners of oil painting, and for having worked on the Sistine Chapel in Rome.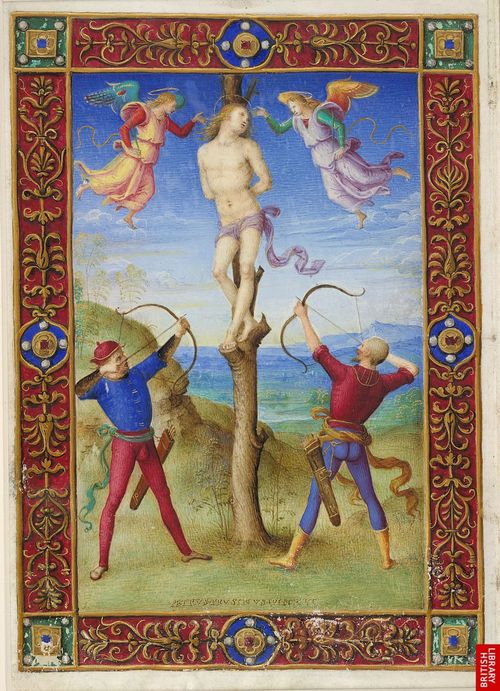 The martyrdom of St Sebastian: London, British Library, MS. Yates Thompson 29, f. 132v
A major exhibition devoted to Perugino's work has recently opened at the Alte Pinakothek in Munich, featuring loans from the British Library, the Uffizi (Florence), the Louvre (Paris) and the Hermitage (St Petersburg), among other institutions. The curators have endeavoured to remove Perugino from Raphael's shadow; and they have done so with stunning effect. There are some sensational pieces on display in Munich –- including the Alte Pinakothek's own Vision of St Bernard, acquired by King Ludwig I of Bavaria in 1829 -- and you are strongly recommended to make a special visit.
The British Library's miniature of the martyrdom of St Sebastian (Yates Thompson MS 29, f. 132) is currently on display at the Alte Pinakothek. Perugino painted this scene in Bologna around the year 1500, signing it at the bottom of the page "PETRVS PRVSINVS PINXIT". The miniature was probably made for Bonaparte Ghislieri, a Bolognese senator (d. 1541), and eventually found its way into the collection of Henry Yates Thompson (d. 1928). Yates Thompson actually sold this manuscript in 1899, before reacquiring it; it was bequeathed to the British Museum by his widow in 1941.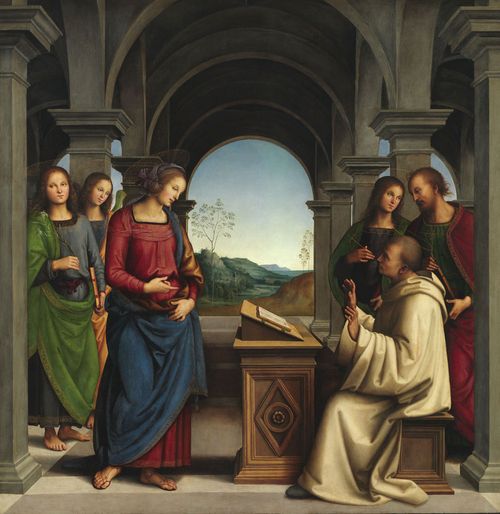 Perugino, The Vision of St Bernard, c. 1490: Munich, Alte Pinakothek
Perugino -- Raphael's Master is open at the Alte Pinakothek in Munich until 15 January 2011.