29 November 2011
Praying to the King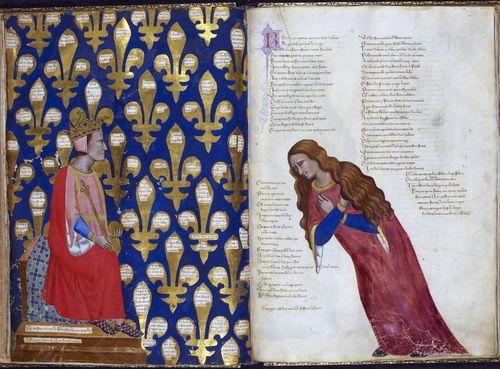 London, British Library, MS Royal 6 E. ix, ff. 10v-11
This image may be familiar to those of you who have already visited our exhibition Royal Manuscripts: The Genius of Illumination. It was painted in Tuscany around 1335, and depicts Robert of Anjou, King of Naples (1309-1343), sitting on his throne, facing the personification of Italy as a mourning woman.
This spectacular vision of kingship occurs within a poem known as Carmina regia, surviving in only three copies. The Royal manuscript (Royal 6 E. ix) is huge in scale, at nearly 500 mm high (around 1½ feet), and is also the grandest of the three in the scope of its illustration and richness of decorative detail, visible here in the robes of the king and the patterning of the fleurs-de-lis background. Parts of the text of the poem are embedded within the petals of the flowers. This manuscript may even be the presentation copy made for Robert of Anjou, to whom the poem was addressed.
The city of Prato, personified in the poem, beseeches Robert for protection, to unite Italy, and to restore the papacy to Rome from Avignon, where it had moved in 1309. The originality and scale of the work and its illustrations must have been well-received by Robert, a renowned bibliophile (though it did not move him to act on the citizens' requests).
The manuscript's path to the English Old Royal Library is less clear. Several Angevin manuscripts entered the libraries of Charles V, King of France (1364-1380), and his brother John, Duke of Berry (b. 1340, d. 1416). The entire French royal library, kept at the Louvre, was acquired in 1422 by the English general John, Duke of Bedford (b. 1389, d. 1435), following the death of King Charles VI. Bedford served as Regent of France on behalf of the infant English king Henry VI (1422-1461, 1470-1471), so perhaps this magnificent royal book became the property of the English kings through Bedford's offices.
- Royal project team