09 December 2011
Gaston Fébus at the Musée de Cluny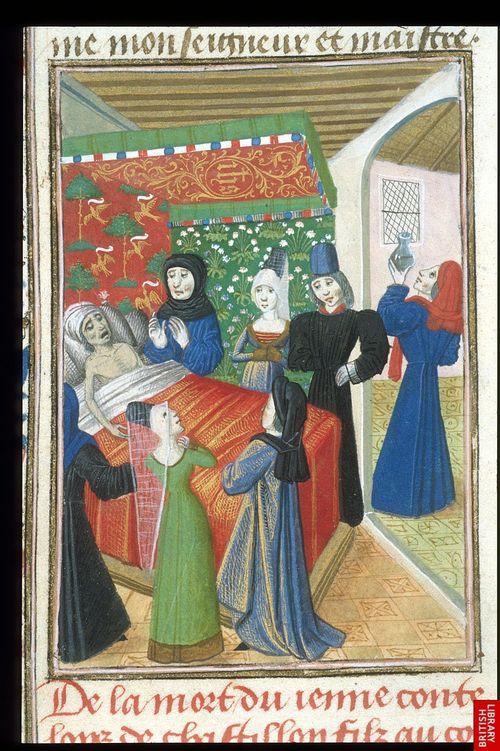 Jean Froissart, Chroniques, Bruges, c. 1470-1472: London, British Library, MS. Harley 4379, f. 125v
If you happen to be in Paris this winter, take the opportunity to visit the exhibition dedicated to Gaston Fébus at the Musée National du Moyen Age. Housed in the former buildings of Cluny Abbey, close to Notre-Dame, this exhibition focuses on the life of one of the most colourful medieval French aristocrats.
Gaston III, count of Foix and viscount of Béarn (d. 1391), was nicknamed Fébus (after Phoebus, one of the epithets of Apollo, god of the light). Gaston was renowned for his love of hunting, even to his dying day -- he collapsed and died while washing his hands after a bear hunt -- and wrote a popular treatise on the subject, Livre de Chasse (The Book of the Hunt).
Gaston was a great bibliophile, and doubtless would have been hugely impressed by the illuminated manuscripts assembled in his honour at Cluny. Among them is a 15th century copy of Froissart's Chronicles (Harley 4379), which illustrates Gaston on his sickbed, having been poisoned by his own son, also named Gaston. In a twist of fate, Gaston Fébus survived his poisoning, and later stabbed his son to death during a quarrel. Another illegitimate son died in 1393 when his costume caught fire in a masquerade organised by the Queen of France, known as the Bal des Ardents (the Ball of the Burning Men). King Charles VI of France (1380-1422) almost died in the same fire.
Gaston Fébus: prince Soleil will be on display at the Musée National du Moyen Age until 5 March 2012. It features loans from the British Library, the British Museum, the Louvre and other institutions.