20 December 2011
Help Us Date and Localise This Manuscript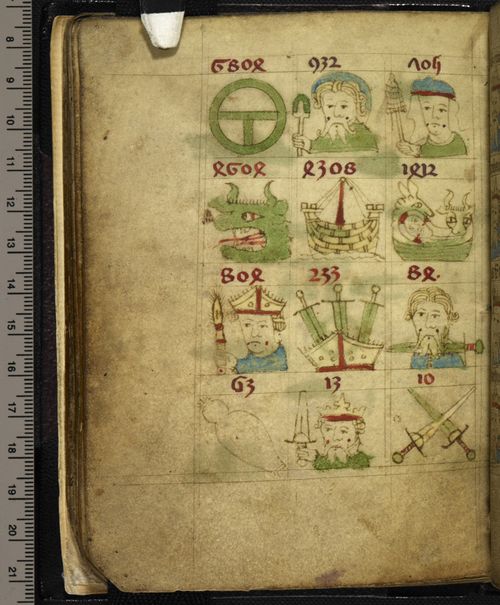 London, British Library, MS Harley 2332, f. 20v
Medieval manuscripts frequently contain no indication of when they were written. In order to assign them an approximate dating, we invariably have to make judgments based on their script and decoration, both of which change over the centuries.
Harley 2332, a physician's almanac in the British Library's collections, is an exception to this rule. On one of its pages is found a full-page illustration, featuring twelve pictograms, each of them annotated with the number of years to have passed until the time when the almanac was made. Based on this information, we can conclude that Harley 2332 was made in or around the year AD 1412.
Certain of these pictograms defy interpretation, however, so we'd like to solicit your help to identify and date them. Please feel free to send us your ideas in the comment box at the foot of this post. Here is a list of the twelve images (reproduced above), reading from top to bottom and starting with the left-hand column. As you will see, not all of our identifications match precisely.
(a) the world represented by a medieval T-O map/6804 = 6804 years since the Creation (5392 BC)
(b) a monster's mouth/4604 = 4604 years since Sodom and Gomorrah? (3192 BC)
(c) an archbishop/804 = 804 years since St Augustine of Canterbury (AD 608: Augustine arrived in England in 597 and died in 604)
(d) a shroud/63 = 63 years since the Black Death (AD 1349)
(e) a saint/932 = 932 years since St Patrick? (AD 480: Patrick lived in the 5th century, but his exact dates are open to question)
(f) a ship/4308 = 4308 years since Noah's Ark (2896 BC)
(g) an archibishop's mitre stabbed by 3 swords/233 = 233 years since the murder of Thomas Becket (AD 1179: Becket was actually murdered in 1170)
(h) a king/13 = 13 years since the death of King Richard II (AD 1399)
(i) a laywoman/705 = 705 years since ? (AD 707: someone associated with the place where this manuscript was made?)
(j) the Nativity/1412 = 1412 since the Nativity (AD 0)
(k) a man with a sword through his neck/84 = 84 years since the murder of King Edward II (AD 1328: Edward was murdered in 1327)
(l) 2 swords crossed/10 = 10 years since a battle (AD 1402: the battle of Shrewsbury was fought in 1403)
We know that this almanac was made in England. Perhaps someone can identify all the historical figures whose images are found on f. 20v.
Harley 2332 has recently been digitised in its entirety as part of our Harley Science Project. These images, together with an enhanced description, will be made available on Digitised Manuscripts in 2012.