05 December 2011
More Royal events
From now until March 2012, the British Library is hosting a series of events to celebrate our exhibition Royal Manuscripts: The Genius of Illumination. You can see the full list and make your bookings here.
SOLD OUT 12 December The Story of a Book Television presenter Michael Wood tells the story of one manuscript's journey from France to Italy and Anglo-Saxon England. Please note: this event is already sold out.
12-13 December Royal Manuscripts Conference An international conference featuring 18 speakers over 2 days, offering fresh insights into some of the manuscripts displayed in the exhibition.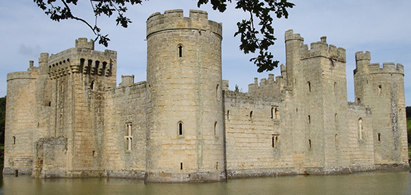 SOLD OUT 13 December The English Castle Expert John Goodall narrates the history of the use and development of castles in medieval England. Please note: this event is already sold out.
16 December The King of Beasts Author and researcher Deirdre Jackson presents a lavishly illustrated talk on the lion, a symbol of royalty for millennia.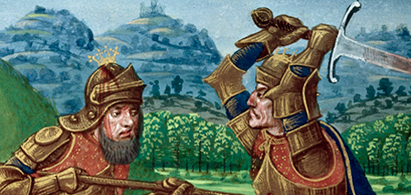 9 January The Death of King Arthur Join acclaimed poet Simon Armitage as he reads from his new translation of The Alliterative Morte Arthure, in discussion with Erica Wagner, Literary Editor, The Times.
13 January Sacred Monarchy in Medieval England Eamon Duffy, Professor of the History of Christianity at the University of Cambridge, considers the nature of medieval holy kingship and its implications for the sixteenth-century Reformation of the Church.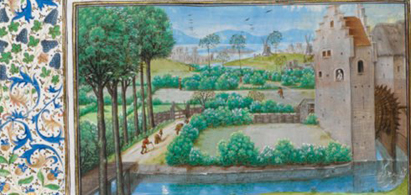 20 January Royal Manuscripts: The Making of an Exhibition Curators Scot McKendrick and Kathleen Doyle discuss their experiences of mounting this major exhibition. Please note: this event is free of charge.
20 January Monarchs and their Books A rare opportunity to visit the Royal Library at Windsor Castle, and to visit the Royal bindery, where the sovereign's books have been repaired for many centuries. Please note: this event should be booked directly via Windsor Castle, where it takes place.
30 January Towton 1461 and the Destruction of Medieval Kingship George Goodwin, author of Fatal Colours: Towton 1461, charts Henry VI's tragic reign, culminating in medieval England's most brutal battle.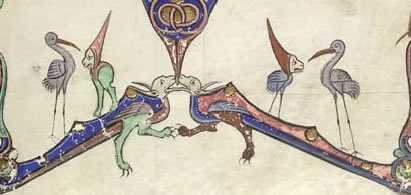 3 February Sublime Words, Ridiculous Images During the Middle Ages books containing sacred texts often featured playful and shocking images, as Alixe Bovey explains.
10 February The Royal Library: Old and New Discover the stories of the royal libraries now housed at the British Library and Windsor Castle, in conjunction with Kathleen Doyle, John Goldfinch and Jane Roberts.
10 February The Sixteen: Musical Illuminations Internationally-renowned choir The Sixteen, led by their founder and conductor Harry Christophers, present a programme of late medieval music, including pieces by King Henry VIII. Please note: this will be an unseated performance.
17 February Royal Manuscripts: The Genius of Illumination Study Day A day of fascinating talks and workshops related to the exhibition, including a demonstration by Patricia Lovett of how to make a medieval manuscript. Please note: includes entry to the exhibition.
2 March Late at The British Library: Illuminate! A late event showcasing graphic novelists, cartoonists, children's books illustrators, calligraphers and contemporary illuminators, with a bar, DJs and VJs.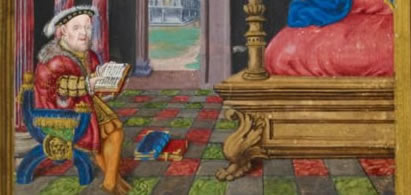 9 March New Learning Out of Old Books: Henry VIII and the Invention of the Royal Library Celebrated historian David Starkey explains how Henry VIII turned the Royal collection into a working library, laying the foundations for a national book repository.