13 December 2011
Rival Queens, Precious Books
Along with dozens of newly catalogued manuscripts and hundreds of new images, we have recently uploaded two fully digitised prayer books to the Catalogue of Illuminated Manuscripts, which belonged to two very different Tudor queens.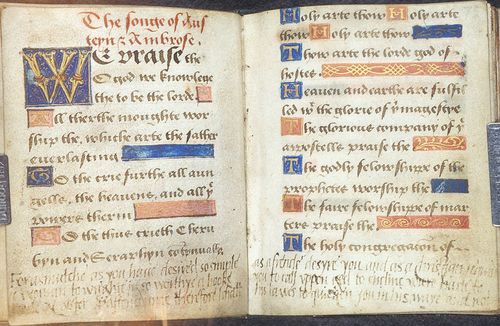 Text page with marginal inscription by Lady Jane Grey to Sir John Bridges, Lady Jane Grey's Prayer Book, England, 1st half of the 16th century, Harley 2342, ff. 74v-75.

The first of these is Lady Jane Grey's Prayer Book (Harley 2342), a tiny volume (85 x 70 mm) which she is said to have carried to her execution. Lady Jane was a cousin of Henry VIII's son Edward VI. After his death in 1553, the 15-year-old Lady Jane, who was a devout Protestant, was convinced by her father-in-law, the Duke of Northumberland, that she should claim the throne of England in order to forestall the accession of the Catholic Princess Mary. Lady Jane's reign, however, lasted only nine days before she was overthrown in favour of Mary and sent to the Tower of London. She was eventually executed there on 12 February 1554.
According to an account of her execution published several months after her death, Lady Jane carried a small prayer book in her hands as she went to the scaffold. She is said to have read her final prayers from it, and then to have given it to Sir John Bridges, who was the lieutenant of the Tower of London. The book referred to is almost certainly Harley 2342, which is inscribed with a message from Jane to Sir John Bridges on ff. 74v-75v (above): 'Forasmutche as you have desired so simple a woman to wrighte in so worthye a booke (good) mayster lieutenaunte therefore I shall as a frende desyre you and as a christian require you to call uppon god to encline youre harte to his lawes to quicken you in his waye and not to take the worde of trewthe utterlye oute of youre mouthe...'.
Text page with marginal inscription by Lady Jane Grey, Lady Jane Grey's Prayer Book, England, 1st half of the 16th century, Harley 2342, f. 78
There is also a moving message to Jane's father, the Duke of Suffolk, written across the margins of several pages. It begins on f. 78 (above): 'the lorde comforte youre grace and that in his worde whearen all creatures onlye are to be comforted and though it hathe pleased god to take awaye ij of youre children yet thincke not I moste humblye beseche youre grace that you have loste them but truste that we by leasinge this mortall life have wanne [won] an immortal life and I for my parte as I have honoured youre grace in thys life will praye for you in this life, youre gracys humble daughter Jane Duddley'.
Lady Jane Grey was succeeded on the throne by Mary Tudor, for whom our next manuscript was named. The Queen Mary Psalter (Royal 2 B. vii) has a complicated provenance, however; despite the name, it was not made for Mary Tudor, but came into her possession more than 200 years after it was created. The Psalter (or book of Psalms) was produced in England, probably London or East Anglia, between 1310 and 1320. Scholars believe that it was designed for an aristocratic patron, and possibly a royal one, but unusually the manuscript contains no evidence (such as a colophon or coats of arms) that would point to its original owner. 
Although it is unclear who owned the Psalter for its first two centuries, by the 1550s it belonged to Henry Manners, the 2nd Earl of Rutland, who was arrested upon the accession of Queen Mary in July 1553. What happened to the Psalter in the next few months is unknown, but in October of that year the Psalter was seized by a customs officer named Baldwin Smith as it was evidently in the process of being removed from the country. Smith then presented the Psalter as a gift to Queen Mary. Queen Mary valued the book highly; she had it rebound with her device of a pomegranate (inherited from her mother, Catherine of Aragon), embroidered in gold thread on velvet.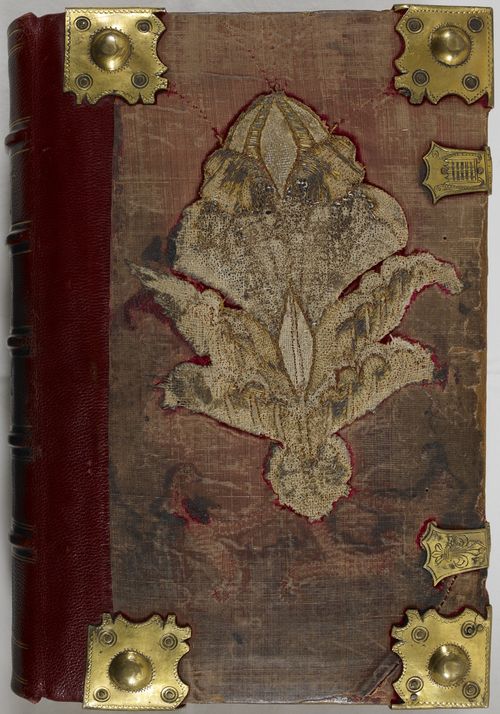 Binding of the Queen Mary Psalter, c. 1553-1558, Royal 2 B. vii
The Queen Mary Psalter is no simple prayer book; it contains a nearly unparalleled programme of illumination, all designed and executed by a single artist. There are more than 800 miniatures, historiated initials and bas-de-page (bottom of the page) images; sometimes all three kinds of decoration can be found on the same page.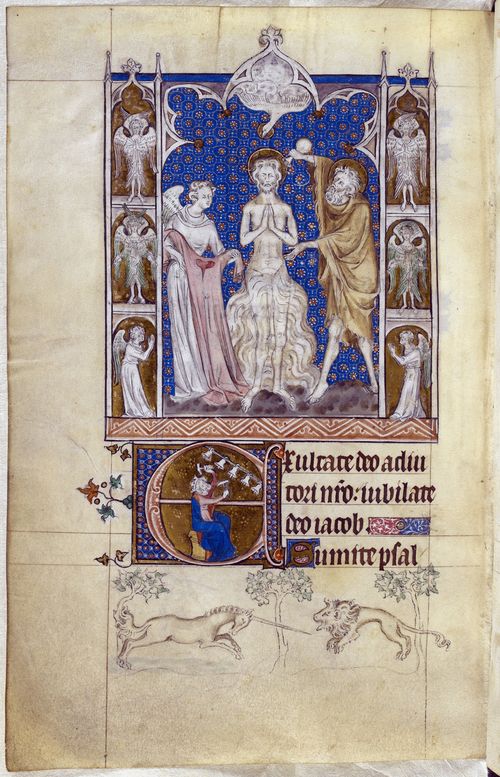 Miniature of the Baptism of Christ, Queen Mary Psalter, England (London / Westminster or East Anglia), between 1310 and 1320, Royal 2 B. vii, f. 190v

Above is a page with the beginning of Psalm 80 ('Exultate Deo aduitori nostro iubilate Deo Iacob', 'Rejoice to God, our helper; sing aloud to the God of Jacob'). The miniature shows the Baptism of Christ by John the Baptist, assisted by a helpful angel. Below is a historiated initial of King David playing the bells, and beneath is a bas-de-page scene of a unicorn and a lion (animals that were, probably not coincidentally, symbols both of Christ and of England).
The Queen Mary Psalter is currently on display in the Royal exhibition, and it is also featured in the Royal app.
- Sarah J Biggs